Adjustable abdominal muscle exercise bench MS-L110 2.0 - Marbo Sport
Product code:
MS-L110 2.0
Looking for equipment to take your abdominal muscle training to the next level of sophistication? Now you can achieve spectacular results also in your home gym.
The new version of the well-known abdominal muscle bench MS-L110 2.0 from Marbo Sport is a high-quality device that will give you the opportunity to safely and stably perform an extensive ABS workout.
The MS-L110 2.0 bench will impress you with:
great build quality – solid metal profiles and sturdy mounts ensure reliable stability, even during intensive training;
adjustable inclination angle – so you can adjust the level of exercise difficulty to your fitness or training goals;
length adjustment – you can perfectly adjust the leg support, no matter what height you are;
functionality – the device gives you the opportunity to perform a full abdominal muscle workout, including, among other things, head-down bends, torso twists, as well as leg raises while lying down.
Bet on professional quality and safety. Enrich your gym with equipment that will allow you to sculpt steel abdominal muscles!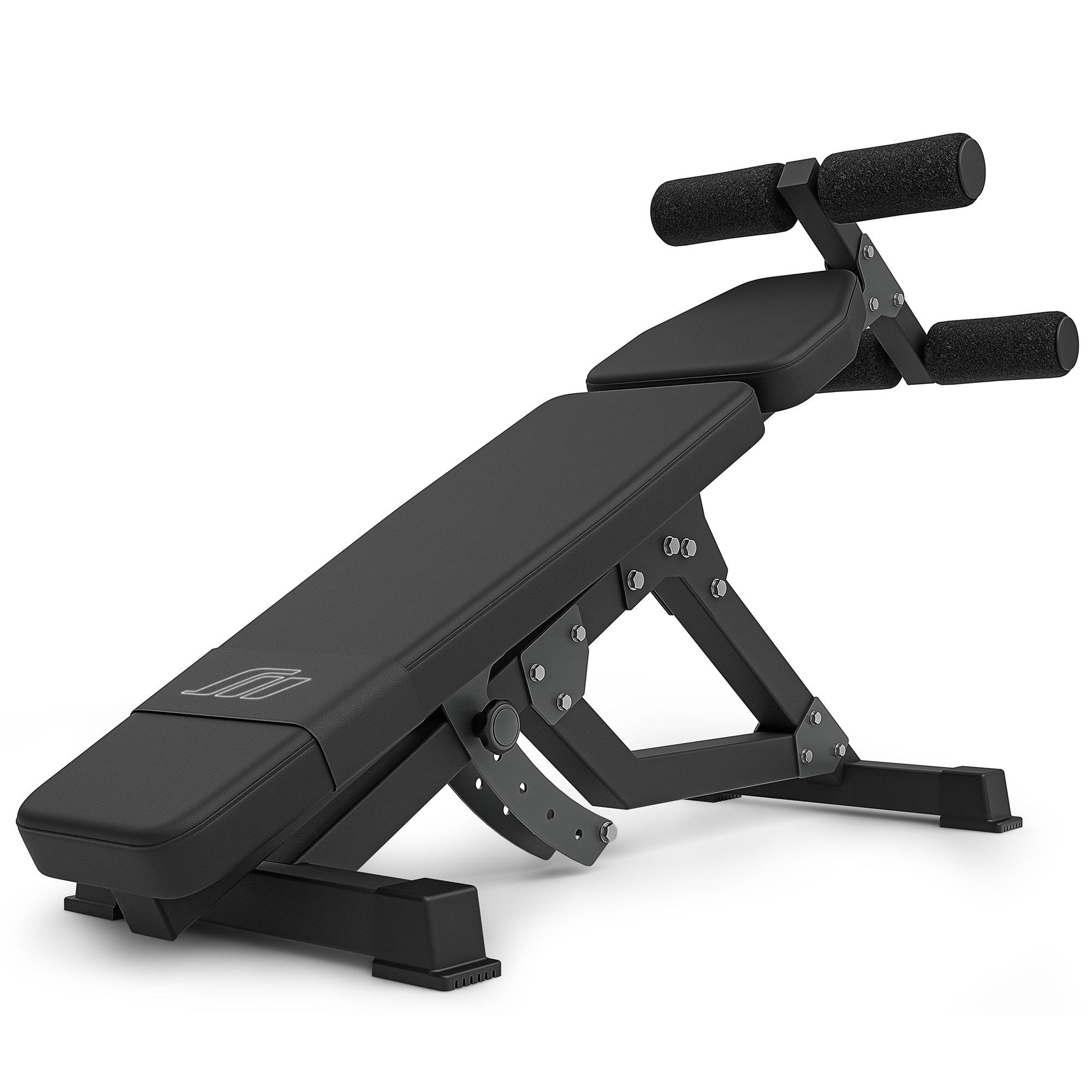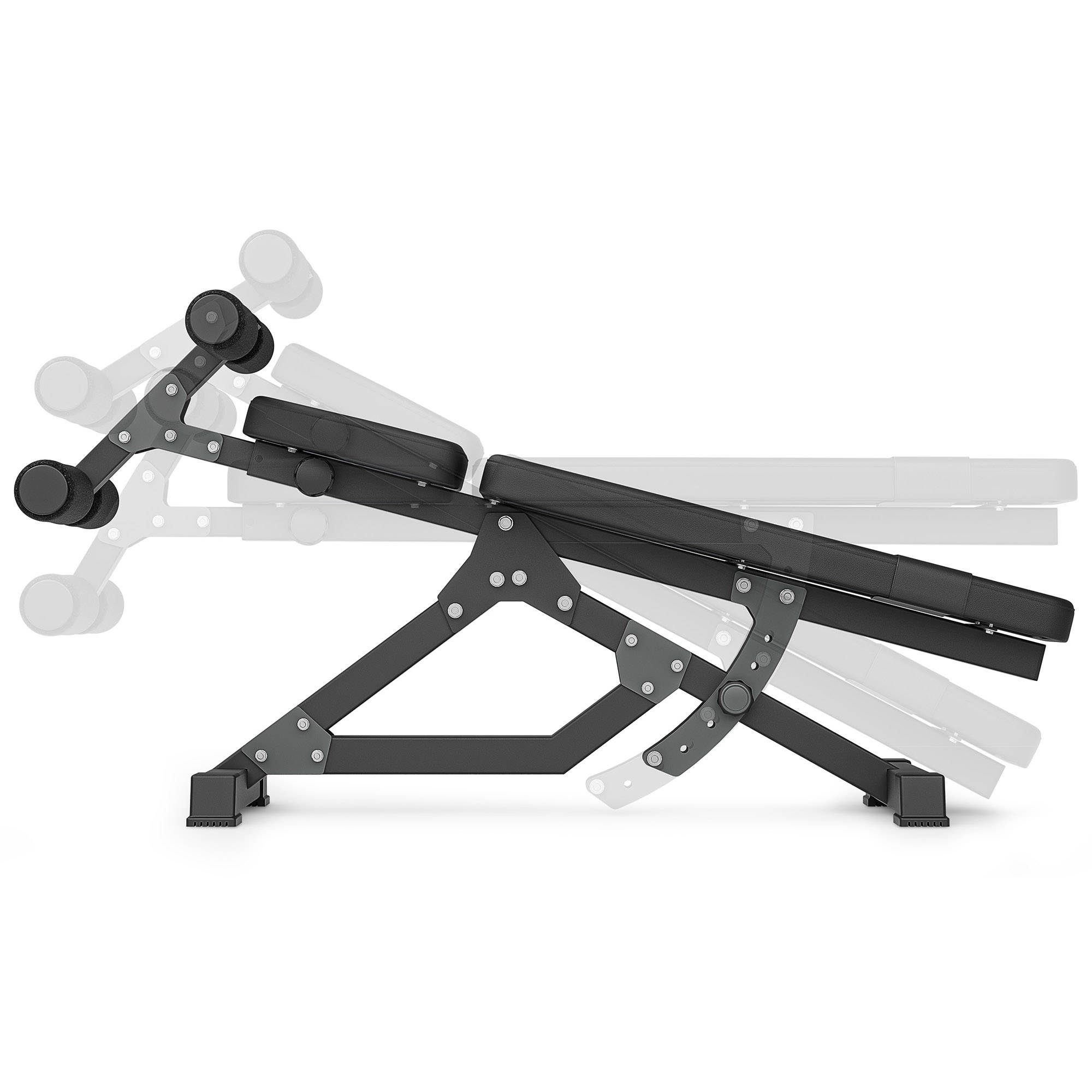 Adjustable backrest angle
Adjustable angle of the backrest allows you to choose the position of exercise to the degree of training and your capabilities.
You will decide on your own how much load you want your body to bear while performing bends, twists or pull-ups.
Thanks to this, you can, for example, gradually increase the intensity of the exercises or lower it when you return to training after a long break or need recovery.
Adjustable leg support
The adjustable leg support means you can set it at a height that suits your height. Which, as a result, will ensure a stable and comfortable position while exercising.
This will translate into both greater comfort and the efficiency and safety of your workout.
Foam-covered rollers / leg locks
Soft yet durable EVA foam on the rollers will guarantee excellent cushioning and prevent unpleasant leg chafing - even after long and intense training sessions. You will feel the comfort during each repetition in the series.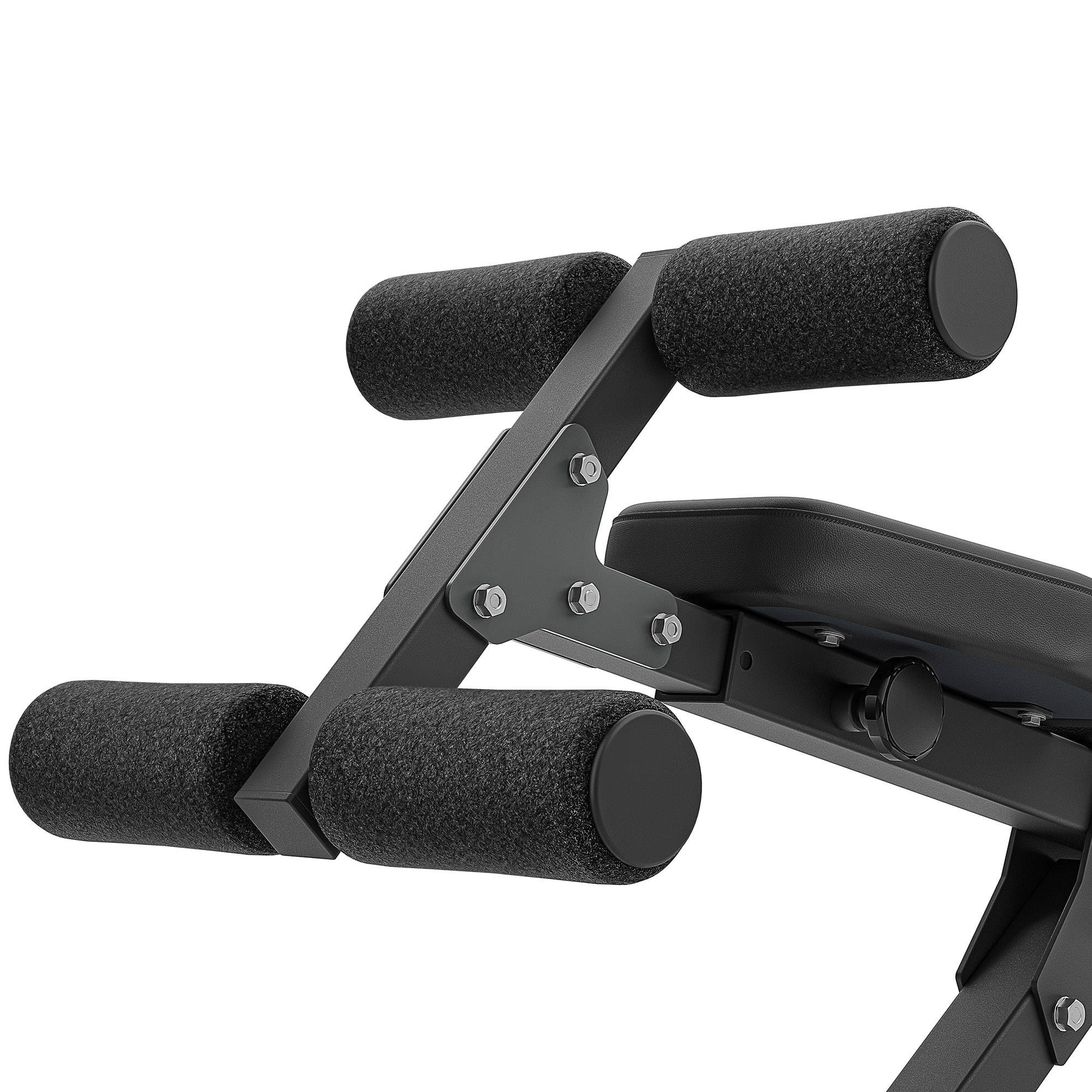 Feet made of reinforced rubber compound
You don't have to worry that your abdominal muscle exercise bench will scratch the floor. The durable rubber feet will prevent this from happening, whether it's tile, carpet or laminate - even when you're doing intense and prolonged exercise.
The presence of this element also ensures that the bench will not slip or slide - so you can exercise without worrying about your safety.
Reinforced upholstery
The upholstery of the MS-L110 2.0 bench was made of high-quality eco-leather in an elegant black color.
It was reinforced with an additional strip with an embroidered logo in the place most vulnerable to abrasion. Therefore, you can be sure that the device will look great even with daily intensive use. This is an investment for years.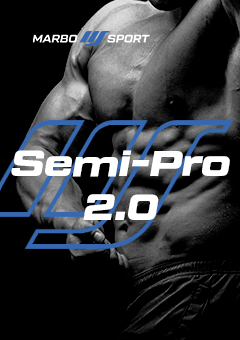 Semi-Pro 2.0 series - a new generation of bestsellers
Semi-Pro 2.0 is Marbo Sport's new series of equipment and accessories designed for advanced home users.
This is the new edition of the cult Semi-Pro series, in a refreshed and improved version. The well-known quality, ergonomics and stability have been given a new design. Elegant black upholstery combined with subtle details in silver and steel tones and a discreet logo are the essence of modern style.
The machines make a great impression and look extremely professional - they are even more stable, safer and more ergonomic.
The wide range of equipment includes equipment for strength and endurance exercises, with and without weight, shaping various muscle parts. The machines provide precise and wide range of adjustment. This allows you to fit them to the training needs of each user.
The equipment can be easily combined with each other - so as to create compact and complete sets for professional exercises. This is an excellent choice for those who do more intensive and advanced training on a daily basis.
Marbo was founded over 40 years ago in Starachowice. We started with the production of simple equipment for home gyms, to constantly increase the range and quality of products together with the experience gained. Today we are the leading manufacturer of bodybuilding equipment in Poland, offering world-class equipment. We have built a brand and gained experience that obliges.
Bodybuilding is our passion, and by combining it with modern machinery, we are able to provide the highest quality equipment, made with attention to detail, and above all with your comfort and safety in mind.
The company is based in Starachowice in the Świętokrzyskie Voivodeship. This is where the office, production and warehouse halls are located. It is a base from which all forms of online sales and contact with customers are controlled, from which shipments for individual customers and partner stores are carried out. On the company's map, all roads start from Starachowice.