Back extensor training bench MS-L108 2.0 - Marbo Sport
Product code:
MS-L108 2.0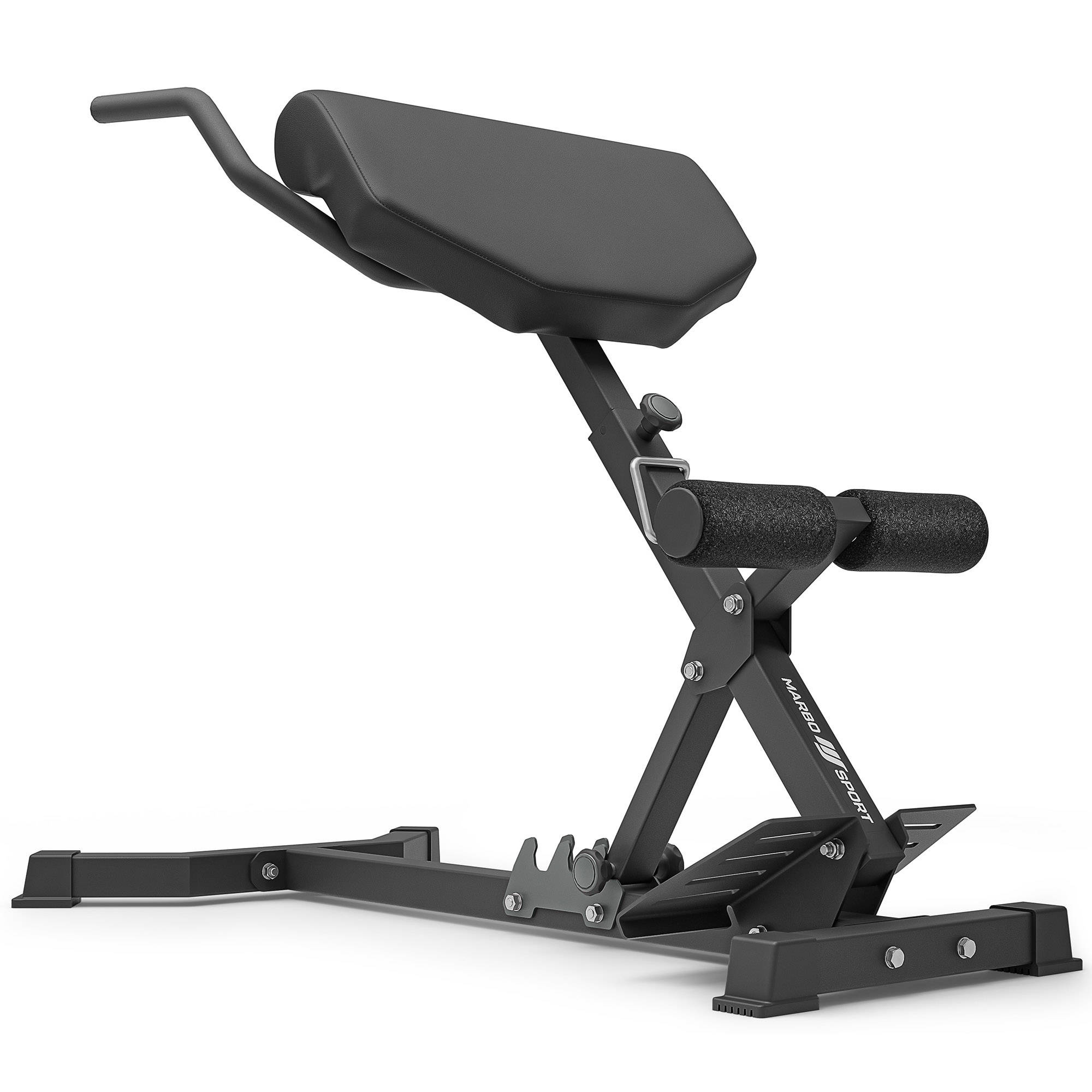 Do you want to strengthen your back extensor muscles to improve trunk stabilization and forget about lumbar pain?
The new MS-L108 2.0 back extensor bench from Marbo Sport will allow you to perform stretching exercises and enrich the training of all parts of the back muscles, as well as the abdominal muscles.
Bet on a stable construction, thanks to which your home training will be safe, comfortable and performed just like in a professional gym.
Back extensor bench MS-L108 2.0:
was created from high-quality materials - will pass the test even during intensive workouts with a maximum load of up to 130 kg;
allows you to adjust the angle of the backrest in 3 stages - this is an innovative solution that allows you to adjust the level of intensity and sophistication of your training. You can set the backrest in a more horizontal position to increase the load during exercise, or vertically to make it less. Thanks to this novelty, you can achieve a variety of training goals and perform exercises on one device, both for the back extensors and abdominal muscles;
provides adjustable height, so you can adjust it to your height,
has an elegant design - it will look great in any gym.
Enrich your set of workout equipment and strengthen your muscles!
NEW! Adjustable backrest angle - 3 degrees of tilt
Do you regularly practice torso raises from the fall or back straightening on the bench, but still feel unsatisfied because the load during training is not enough for you?
You can crank your workout to the max on the MS-L108 2.0! The new version of this bench for back extensors gives you the possibility to set the optimal angle of the backrest. There are 3 degrees of inclination (50°, 43°, 32°). It is up to you to decide whether you will perform your workout in a vertical or more horizontal position.
This makes a big difference to the quality of the intensity of your workout.
Setting the backrest more horizontally, will allow you to face a heavier load when performing successive series of repetitions.
Returning to an upright position will make the exercises less demanding - thus preventing overexertion, for example, after a long break from training.
By changing the angle at which you exercise, you will match the degree of your training. This will allow you to feel your muscles working and achieve increasingly ambitious body-building goals.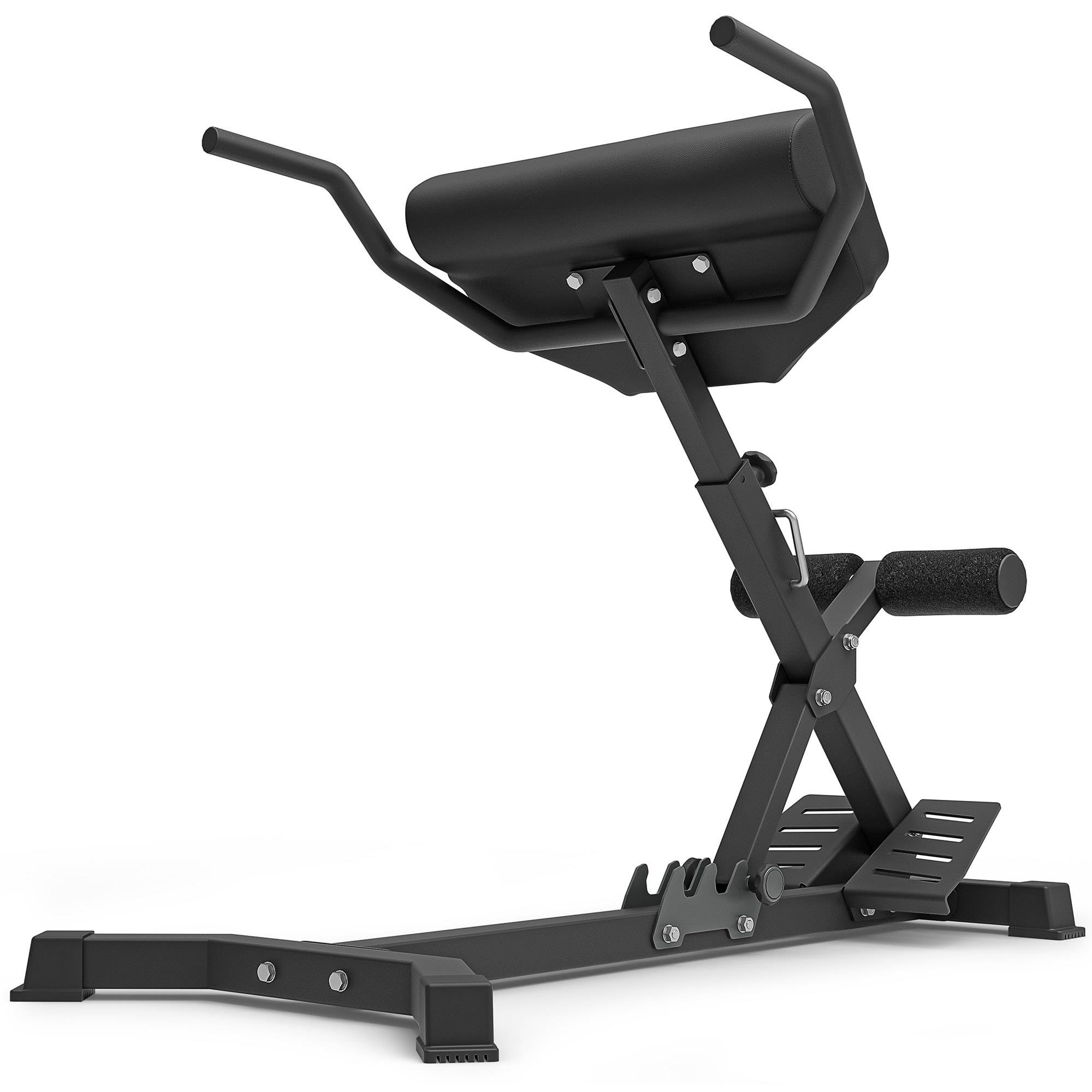 Height adjustment
A wide range of height adjustment will make you fit the back extensor bench to your height.
The pressure knob, reinforced with an additional safety device, ensures that the equipment will hold the set position. As a result, your exercises will become safer and more comfortable. There is also no risk of changing the position of the device during training.
Leg support platforms
Focus on lifting your torso from a fall or straightening your back on the bench, not on the positioning of your feet.
Ergonomic platforms will allow you to maintain the correct position even at higher angles. Exercise comfortably and without risk!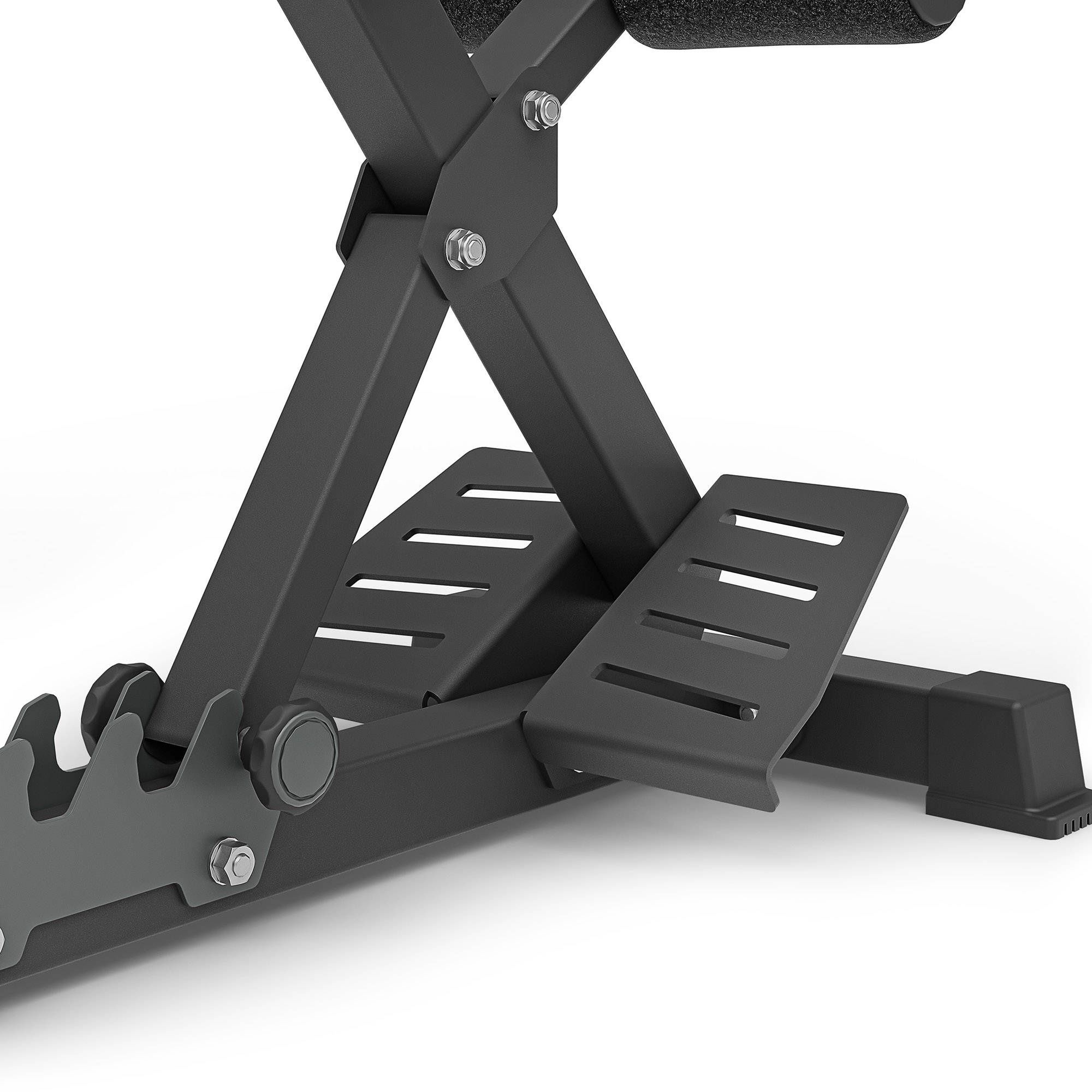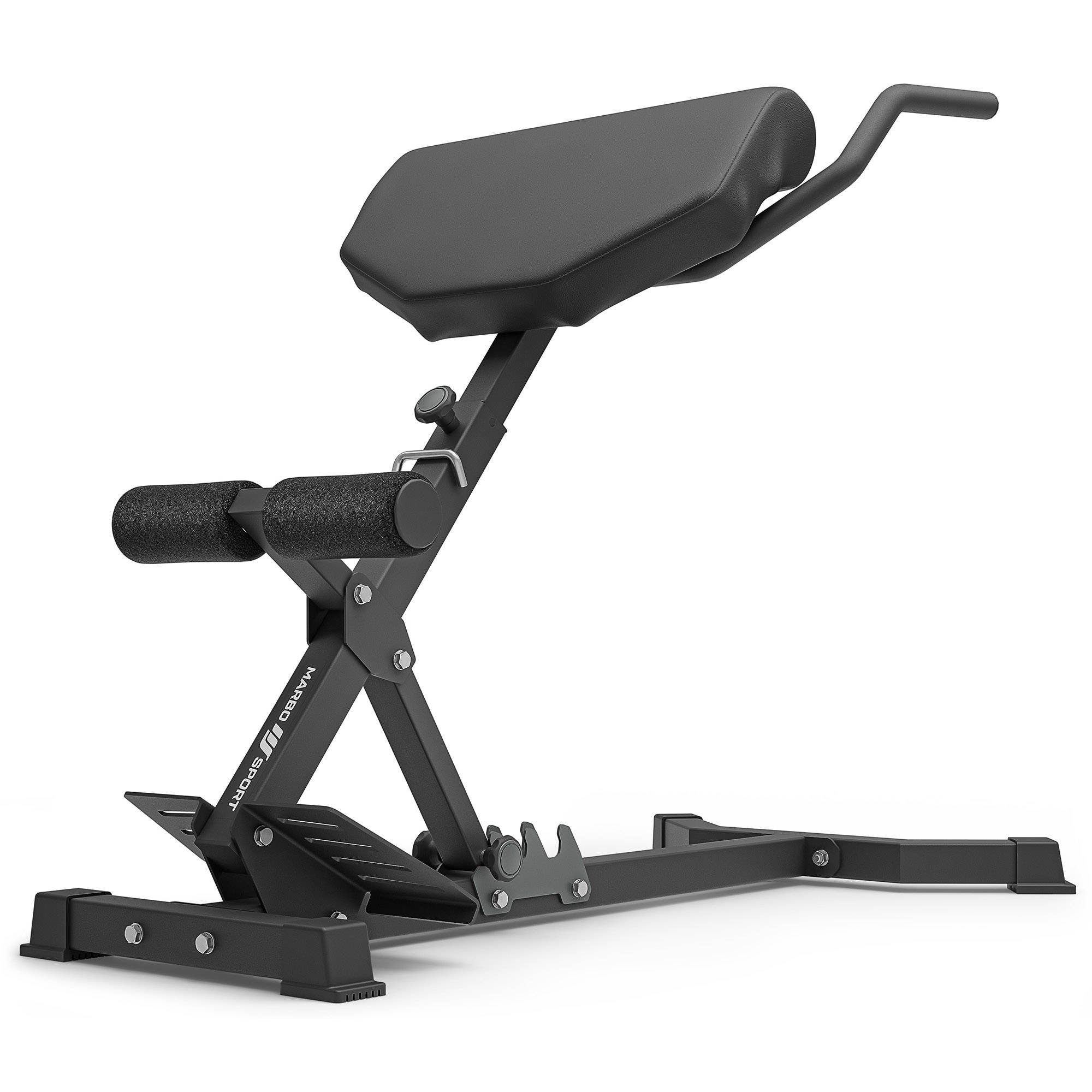 EVA foam covered leg locks
Covering the leg locks with 8 cm diameter foam rollers improves your comfort during exercise. You gain better cushioning and protection against abrasion or skin irritation. As a result, the comfort of exercising is increased - you will appreciate this especially after performing many series during a training session.
High-quality upholstery
Reinforced upholstery with a thickness of as much as 7 cm will perfectly adapt to your body and provide optimal support and comfort during training.
The backrest is ergonomically shaped to help you maintain the correct posture during exercise.
Modern design
The black color of the upholstery adds elegance to the MS-L108 2.0 bench. This will make the device look great in any gym.
The strong eco-leather is also resistant to abrasion. It will look great for a long time, even under more intensive use.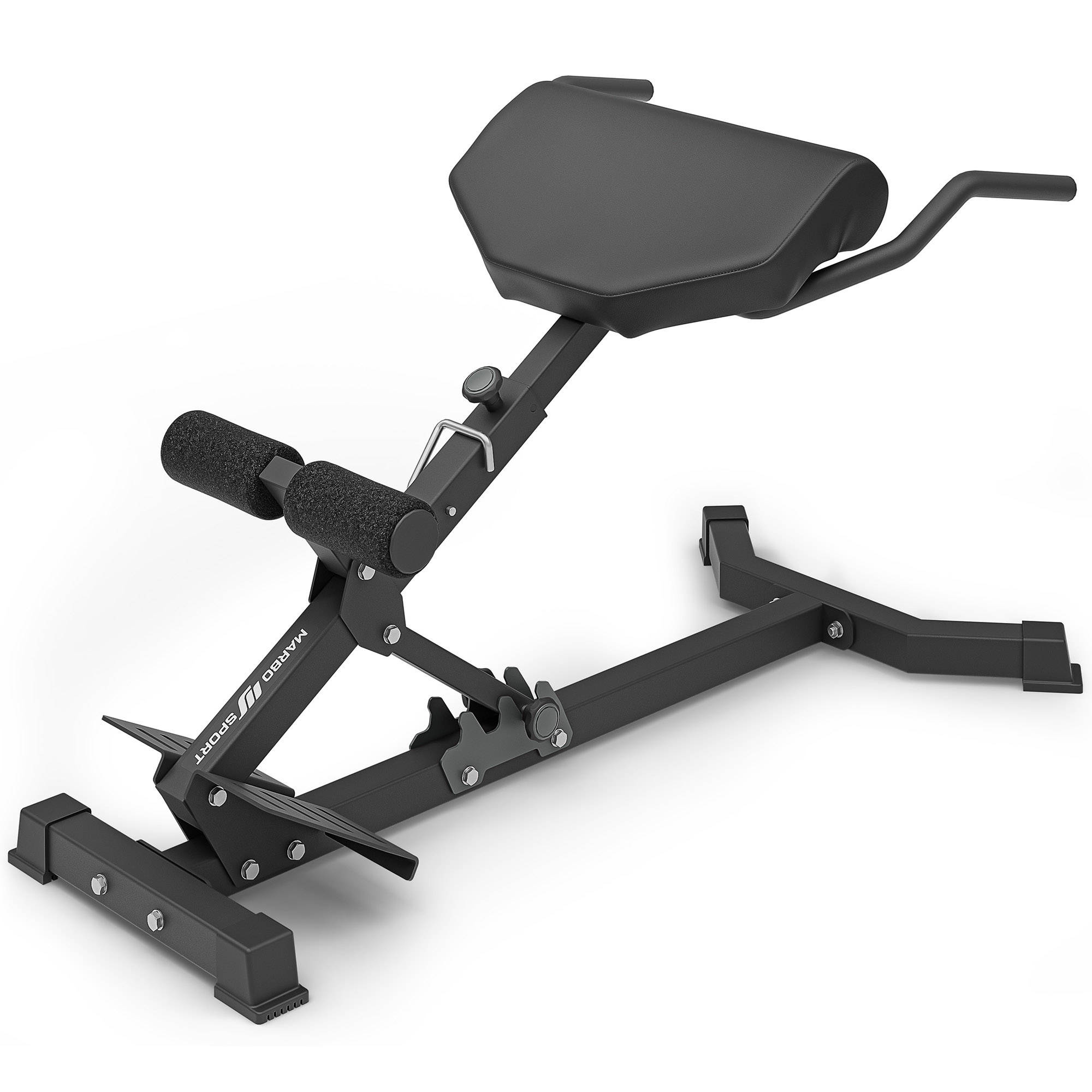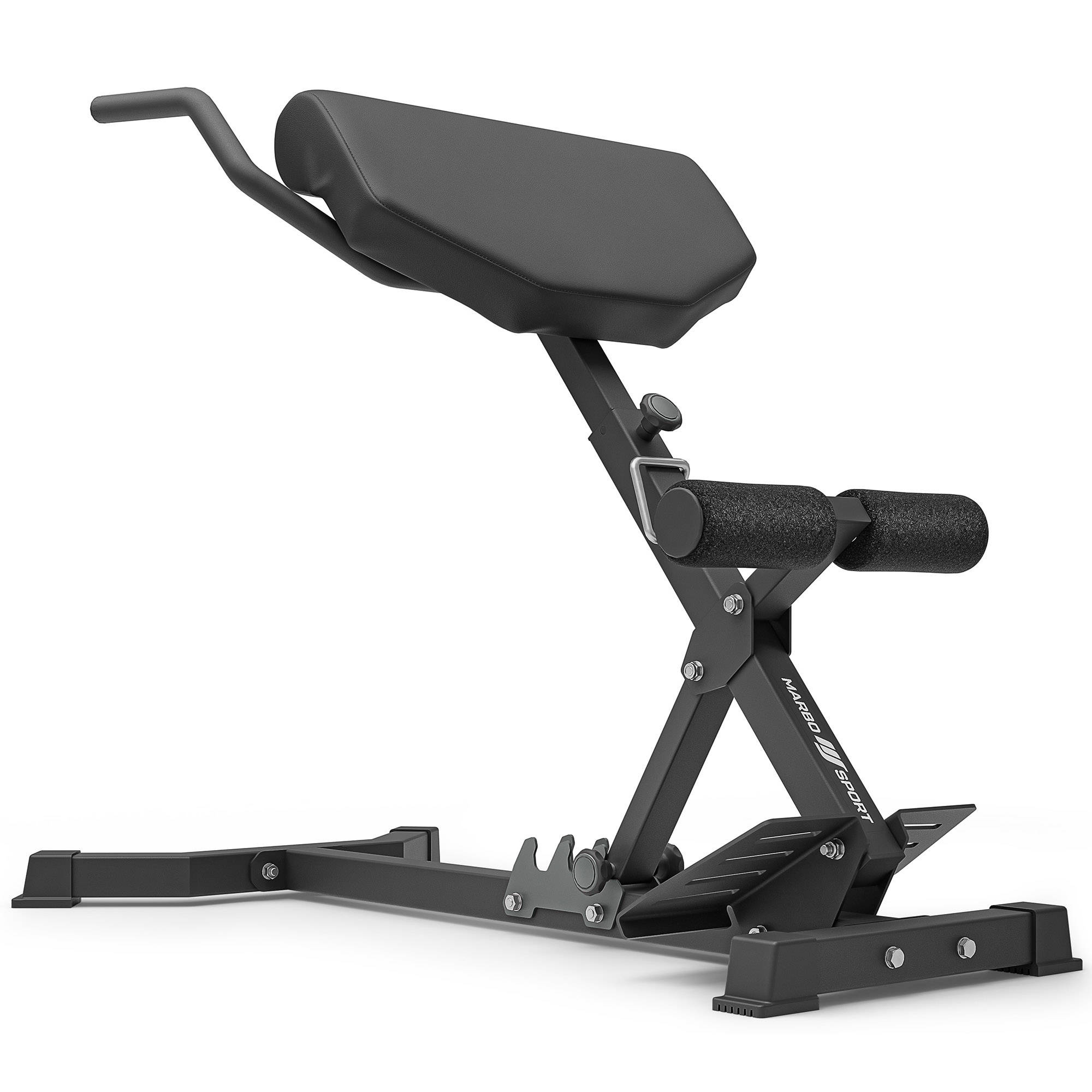 Rubberized feet
Rubberized feet ensure that the unit stands firmly on any surface and does not slip. As a result, you don't have to worry about the bench sliding around while you're performing an intense series of exercises.
In addition, the rubberization ensures that the equipment will not scratch your floor. Set it up on panels, carpet or tiles without worry.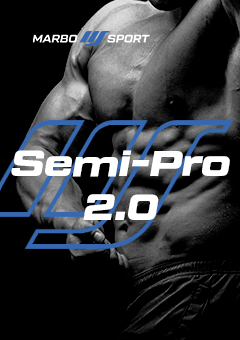 Semi-Pro 2.0 series - a new generation of bestsellers
Semi-Pro 2.0 is Marbo Sport's new series of equipment and accessories designed for advanced home users.
This is the new edition of the cult Semi-Pro series, in a refreshed and improved version. The well-known quality, ergonomics and stability have been given a new design. Elegant black upholstery combined with subtle details in silver and steel tones and a discreet logo are the essence of modern style.
The machines make a great impression and look extremely professional - they are even more stable, safer and more ergonomic.
The wide range of equipment includes equipment for strength and endurance exercises, with and without weight, shaping various muscle parts. The machines provide precise and wide range of adjustment. This allows you to fit them to the training needs of each user.
The equipment can be easily combined with each other - so as to create compact and complete sets for professional exercises. This is an excellent choice for those who do more intensive and advanced training on a daily basis.
Backrest angle adjustment
Marbo was founded over 40 years ago in Starachowice. We started with the production of simple equipment for home gyms, to constantly increase the range and quality of products together with the experience gained. Today we are the leading manufacturer of bodybuilding equipment in Poland, offering world-class equipment. We have built a brand and gained experience that obliges.
Bodybuilding is our passion, and by combining it with modern machinery, we are able to provide the highest quality equipment, made with attention to detail, and above all with your comfort and safety in mind.
The company is based in Starachowice in the Świętokrzyskie Voivodeship. This is where the office, production and warehouse halls are located. It is a base from which all forms of online sales and contact with customers are controlled, from which shipments for individual customers and partner stores are carried out. On the company's map, all roads start from Starachowice.