Lat Pulldown MF-U005 2.0 - Marbo Sport
Product code:
MF-U005_2.0-k2t4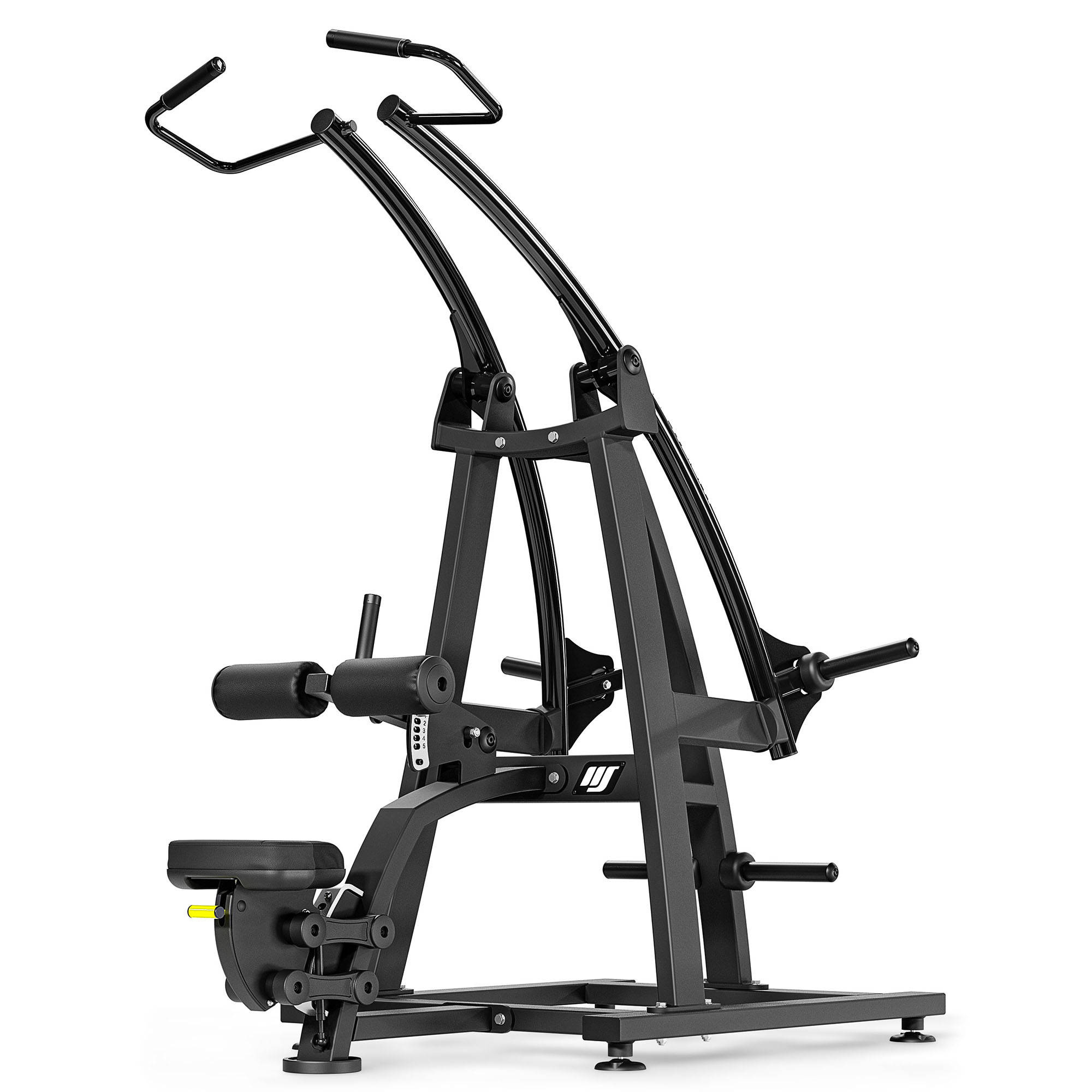 The MF-U005 2.0 back widest muscle machine is a professional free-weight machine that is an essential part of any gym. On this equipment your clients will be able to perform a back workout, with full safety of the exerciser.The machine is equipped with an adjustable seat and an adjustable leg lock, making it easy to adapt to the height and size of any person. Rubber feet and leveling feet prevent the machine from moving during training, making it as stable and safe as possible even when working with maximum load.
Seat adjustment system
The MF-U005 2.0 machine has as many as five degrees of seat height adjustment, so that every user can adjust it to his or her height. The seat adjustment is based on cylinders, so you don't have to get down from the machine to make adjustments.
Adjustable leg locks
The rollers in the leg lock module are made of strong polyurethane foam covered with soft but durable skai. To hide the visible wrapping of the material, we used a metal rosette, and covered the screw with an aesthetically pleasing cap. There are three levels of lock adjustment at the exerciser's disposal, so the machine can be adapted to the size of each user.
Polyamide bushings for loads
The machine is equipped with polyamide-covered load sleeves. The use of polyamide makes the bushings resistant to scratches and mechanical damage, even during frequent insertion and removal of loads. You can store free weights on them, so you do not need to invest in an additional rack, save space and money. The sleeves are designed for Olympic loads with a hole diameter fi50 mm.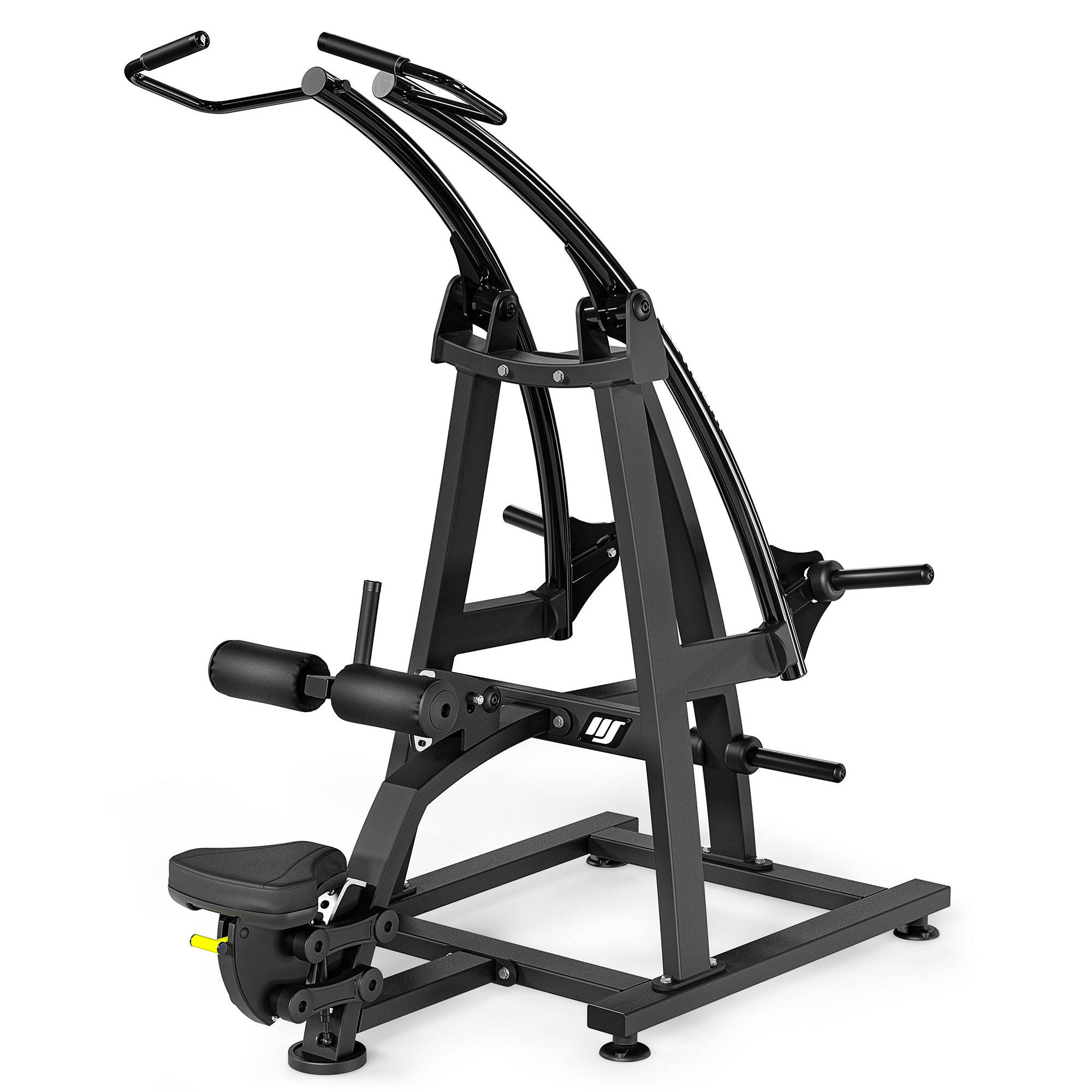 Wide handle
The machine is designed to allow the exerciser the widest possible range of motion during training. The handles have been covered with non-slip, strong foam, which provides a comfortable and secure grip for the user. We covered the ends of the handles with a turned metal sleeve in black.
Reinforced upholstery
The upholstery has double reinforcement on each edge of the upholstered element. We were able to achieve this by using thick, strong COATS core thread combined with durable synthetic leather. The upholstery has been encased by covers made of durable plastic in black. They protect the upholstery from damage and give the device an extraordinary modern design.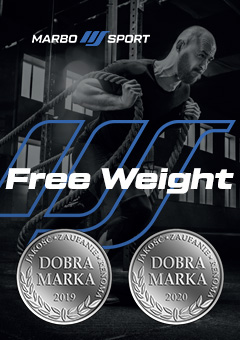 Free Weight line - free weight gym
Marbo Free Weight series is a commercial free weight equipment, designed for professional bodybuilders who value comfort and confidence in their exercises.
The equipment in this series is characterized by construction based on durable 100 x 50 mm and 100 x 40 mm profiles with a wall thickness of 3 mm. Eye-pleasing curves have been incorporated into the design of each structure, which, combined with rounded upholstery, make the appearance of the Free Weight series equipment attractive and modern. This equipment will be the ornament of any professional gym!
To ensure the safety of your customers, our equipment has been tested for safety and compliance with current standards by the European Quality Center.
The result of these tests, are the Safety Certificate and Top Security Certificate, which we have received for the equipment in the Free Weight line.
Marbo was founded over 40 years ago in Starachowice. We started with the production of simple equipment for home gyms, to constantly increase the range and quality of products together with the experience gained. Today we are the leading manufacturer of bodybuilding equipment in Poland, offering world-class equipment. We have built a brand and gained experience that obliges.
Bodybuilding is our passion, and by combining it with modern machinery, we are able to provide the highest quality equipment, made with attention to detail, and above all with your comfort and safety in mind.
The company is based in Starachowice in the Świętokrzyskie Voivodeship. This is where the office, production and warehouse halls are located. It is a base from which all forms of online sales and contact with customers are controlled, from which shipments for individual customers and partner stores are carried out. On the company's map, all roads start from Starachowice.