Gym stands with belay and spacing adjustment MS-S107 2.0 - Marbo Sport
Product code:
MS-S107 2.0
The MS-S107 2.0 goal stands with assistance and adjustable spacing from Marbo Sport are an excellent addition to your gym equipment.
Thanks to its stable and functional design, performing a workout with a barbell is comfortable - whether you plan to do a deadlift with a barbell, shrugs, or lifting forearms while standing in a wide underhand grip. You also gain a secure belay, making your workout completely safe.
These goal stands are distinguished by:
stable construction that won't let you down even under high loads and intense use;
6 levels for putting down weights, which guarantees versatility of use during strength and endurance training;
sturdy belay hooks with 3-level adjustment, which allows you to set the optimal starting position;
adjustable spacing, which allows you to exercise with barbells of different lengths.
One piece of equipment - many possibilities. Expand your workout options and exercise the way you want - without leaving home.
6 levels to put the barbell down
Practice with barbells according to your training plan without changing the rack. With 6 levels to put the barbell down, you can perform your workout in different positions and configurations.
Using the MS-S107 2.0 stands from Marbo Sport, you will perform, among other things:
bench exercises,
squats with a barbell,
deadlifts on straight legs,
toe climbs while standing with a barbell on your neck.
Adjustable stand spacing
The stands are stably connected to each other by a crossbar. The spacing between them can be adjusted quickly and conveniently. You will set it in 3 positions: 100, 110 and 120 cm.
This will allow you to use grips of different lengths during your workout, without worrying about the stability of the belay. The racks will stay in their positions and will not move apart, even when you throw the weight away with great force.
Sturdy belay hooks with 3-level adjustment
Adjustable belay hooks will guarantee safety when you perform squats with barbells or shoulder exercises, among other things.
Adjust their starting position to the height that suits you - so that your workout is more comfortable.
We secured the hooks with a layer of rubber, which prevents the griffin from slipping and provides cushioning and stabilization.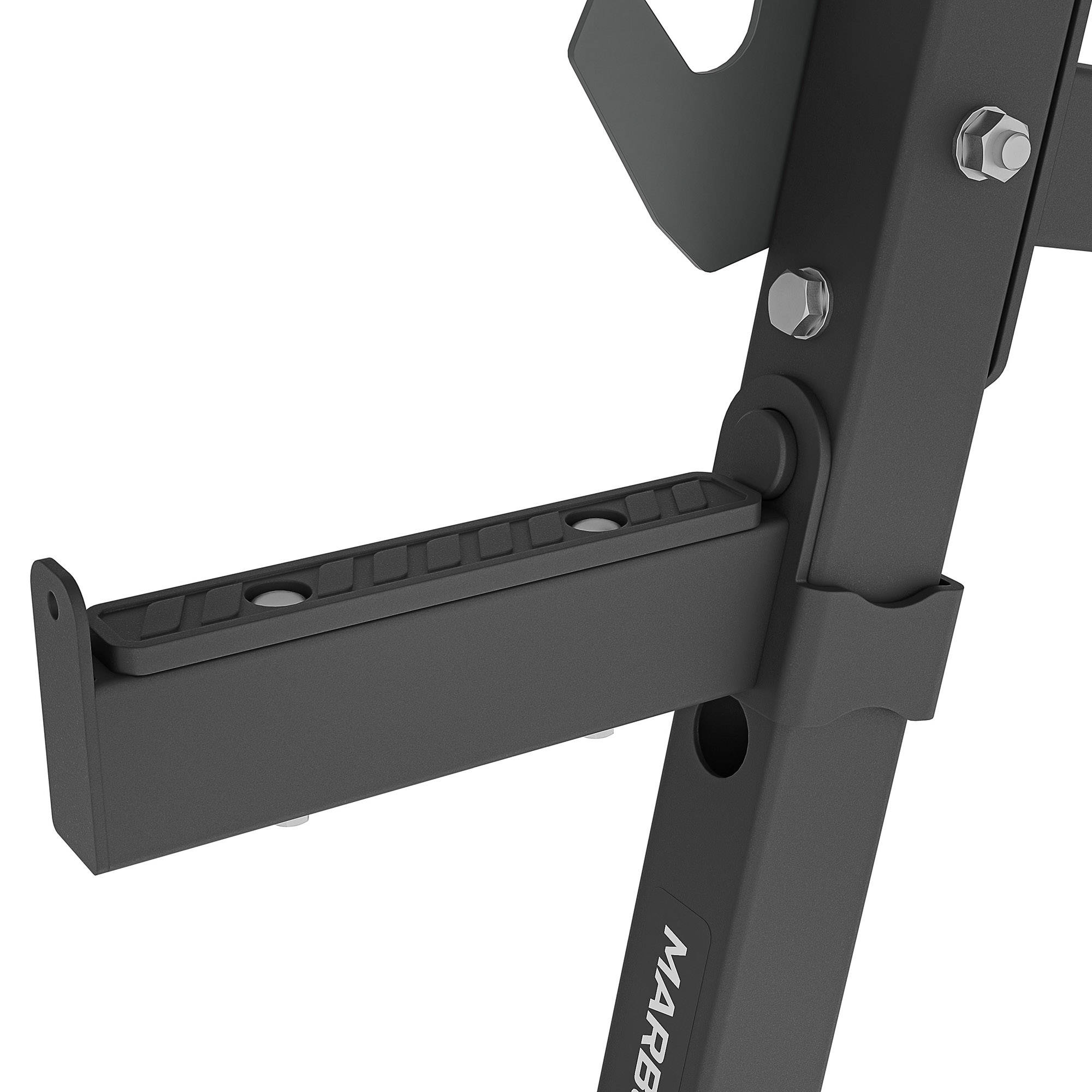 2 weight storage bars + griffin holder
Additional barbell weight always at hand. Sturdy bars will allow you to store the weight conveniently and safely. This will make changing the griffin load even easier. A sleeve has also been placed in the base of the stand, which allows you to store an griffin.
Rubber feet
A scratched floor? No way! The stands are equipped with durable rubber feet that will prevent damage to the floor. This allows you to practice on both parquet, tile and other floor finishes. You also don't have to worry about the structure moving during your workout - the feet increase its stability.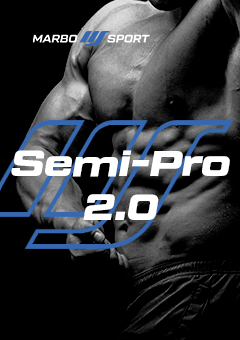 Semi-Pro 2.0 series - a new generation of bestsellers
Semi-Pro 2.0 is Marbo Sport's new series of equipment and accessories designed for advanced home users.
This is the new edition of the cult Semi-Pro series, in a refreshed and improved version. The well-known quality, ergonomics and stability have been given a new design. Elegant black upholstery combined with subtle details in silver and steel tones and a discreet logo are the essence of modern style.
The machines make a great impression and look extremely professional - they are even more stable, safer and more ergonomic.
The wide range of equipment includes equipment for strength and endurance exercises, with and without weight, shaping various muscle parts. The machines provide precise and wide range of adjustment. This allows you to fit them to the training needs of each user.
The equipment can be easily combined with each other - so as to create compact and complete sets for professional exercises. This is an excellent choice for those who do more intensive and advanced training on a daily basis.
Marbo was founded over 40 years ago in Starachowice. We started with the production of simple equipment for home gyms, to constantly increase the range and quality of products together with the experience gained. Today we are the leading manufacturer of bodybuilding equipment in Poland, offering world-class equipment. We have built a brand and gained experience that obliges.
Bodybuilding is our passion, and by combining it with modern machinery, we are able to provide the highest quality equipment, made with attention to detail, and above all with your comfort and safety in mind.
The company is based in Starachowice in the Świętokrzyskie Voivodeship. This is where the office, production and warehouse halls are located. It is a base from which all forms of online sales and contact with customers are controlled, from which shipments for individual customers and partner stores are carried out. On the company's map, all roads start from Starachowice.