Lat pulldown and low row machine MH-W106 2.0- Marbo Sport
Product code:
MH-W106 2.0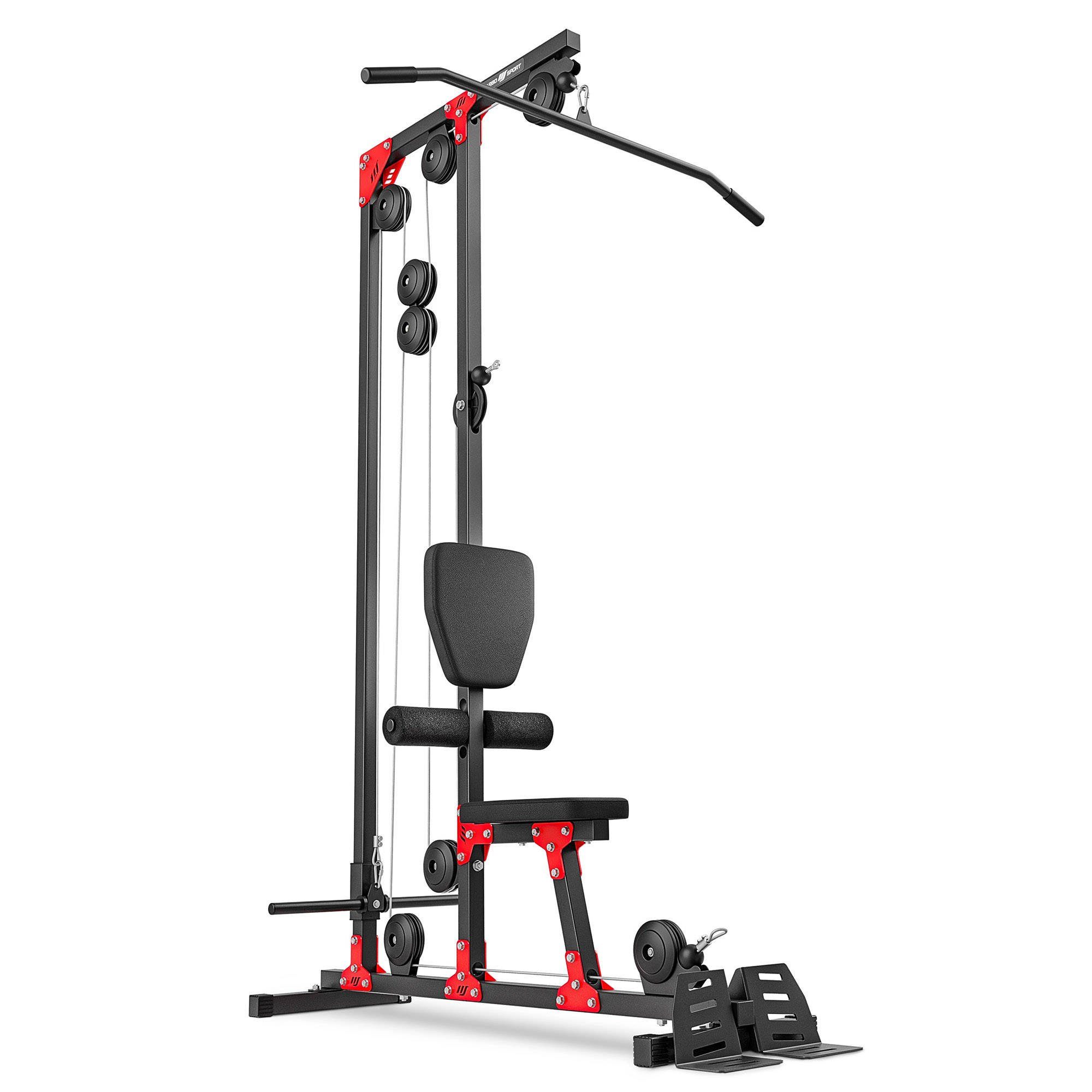 The upper and lower lat pulldown MH-W106 2.0 is a device for private use that is equipped with a seat, thigh pads, footplate and an additional back support that you can use with your arm when exercising. or chest muscles
In the package you get everything you need for your training: lat pulldown, steel cables with lobster clasp and rubberized stop buffers, thigh pads, footplate and a lat pulldown bar MH-C001
Our lat pulldown MH-W 106 2.0 is characterized by its design - ideal quality is guaranteed and the aesthetics of the production are at the highest level.
Possible exercises:
Reverse curls (standing)
Bicep curls
Lat pulldown to the chest (tight grip)
Lat pulldown to the neck (wide grip)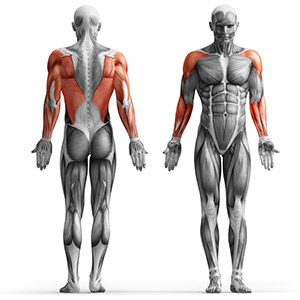 Adjustable upholstery rolls
The lat pulldown MH-W106 2.0. has 3-way height-adjustable upholstery rolls made of comfortable EVA foam.
If the position is correctly adjusted for your height, you will stay in the seat while you grip the upper lat bar.
Weight plate loading
The lat pulldown runs very smoothly and smoothly thanks to the plastic guide eyelets, which also protect the guide rail from any damage.
The MH-W106 2.0. is weighted with weight plates, which you can slide onto bars with a diameter of 25mm.
Back support and additional wheel
In the new generation lat pulldown we have added an additional back support and an additional wheel at head height.
Thanks to this solution, you can do many more exercises on the lat pulldown and the training itself becomes much more comfortable.
Non-slip platforms
The lat pulldown was equipped with comfortable, non-slip platforms. The platforms are made of thick corrugated sheet metal. Their appropriate size and a special, curved shape ensure that they have a double function.
During the back exercise, you can place your feet on the platforms and during the standing shoulder exercise, you will stabilize the lat pulldown.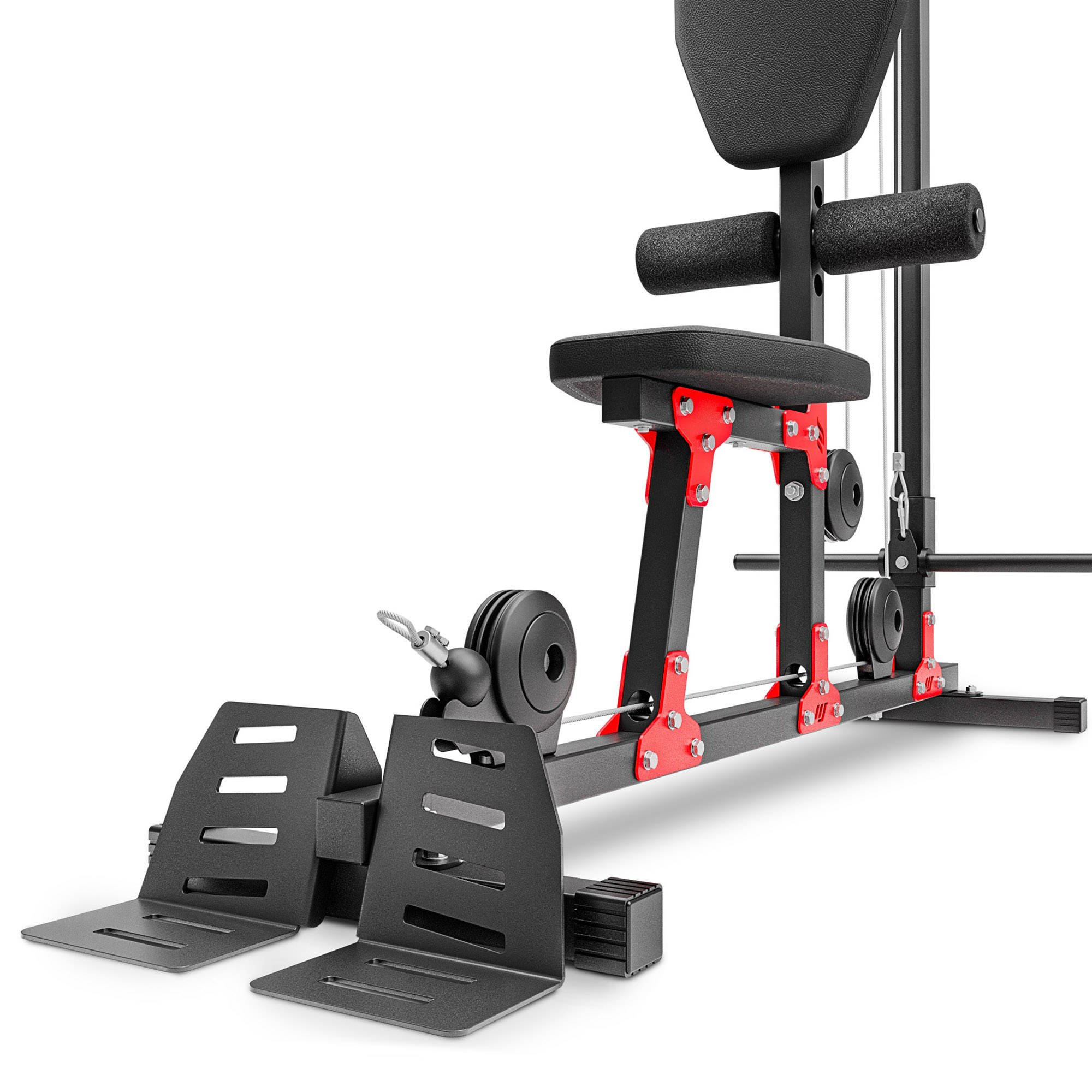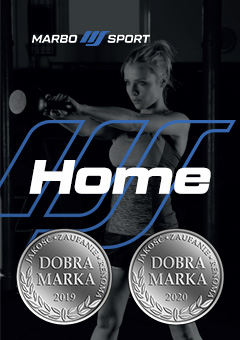 Home line - sports equipment for private use
The Home range is a range of products intended for beginners in bodybuilding and sports enthusiasts who want to gain experience.
The devices are manufactured in such a way that they are functional and easy to assemble. It also guarantees safety and comfort. The products are made from 40 x 40 cm profiles. It insures the stability that is incomparable to other sports equipment in this price range. The elegant red and black upholstery with a thickness of 3 cm and the powder coating result in a great aesthetic.
Safety is the most important thing for us
In order to guarantee the safety of the customers, our device is checked for safety and conformity by the European Center for Quality. Our accessories series has achieved the target specifications for investigations. We have get the security certificate and top security certificate.
Marbo was founded over 40 years ago in Starachowice. We started with the production of simple equipment for home gyms, to constantly increase the range and quality of products together with the experience gained. Today we are the leading manufacturer of bodybuilding equipment in Poland, offering world-class equipment. We have built a brand and gained experience that obliges.
Bodybuilding is our passion, and by combining it with modern machinery, we are able to provide the highest quality equipment, made with attention to detail, and above all with your comfort and safety in mind.
The company is based in Starachowice in the Świętokrzyskie Voivodeship. This is where the office, production and warehouse halls are located. It is a base from which all forms of online sales and contact with customers are controlled, from which shipments for individual customers and partner stores are carried out. On the company's map, all roads start from Starachowice.