Folding multi-adjustable bench MS-L114 2.0 - Marbo Sport
Product code:
MS-L114 2.0
The MS-L114 2.0 folding training bench is a handy exercise device that allows you to perform an effective workout at home. The ability to fold, allows you to store it conveniently, thus saving valuable space.
You will appreciate its:
high quality workmanship, which translates into stability and ergonomics,
the possibility of folding, thanks to which you can easily store it after a workout,
backrest and seat adjustment - up to 16 setting combinations in total,
expandability with additional accessories - turn it into a combo for strength and endurance training.
Convenient storage and transportation
Foldable training bench MS-L114 2.0 from Marbo Sport is the perfect addition to your home gym - no matter how much space you have to arrange it.
With the ability to fold, you can easily hide the bench after finishing your workout, for example, in the closet. It will also definitely make it easier to transport, as you will pack it in your car without having to disassemble it.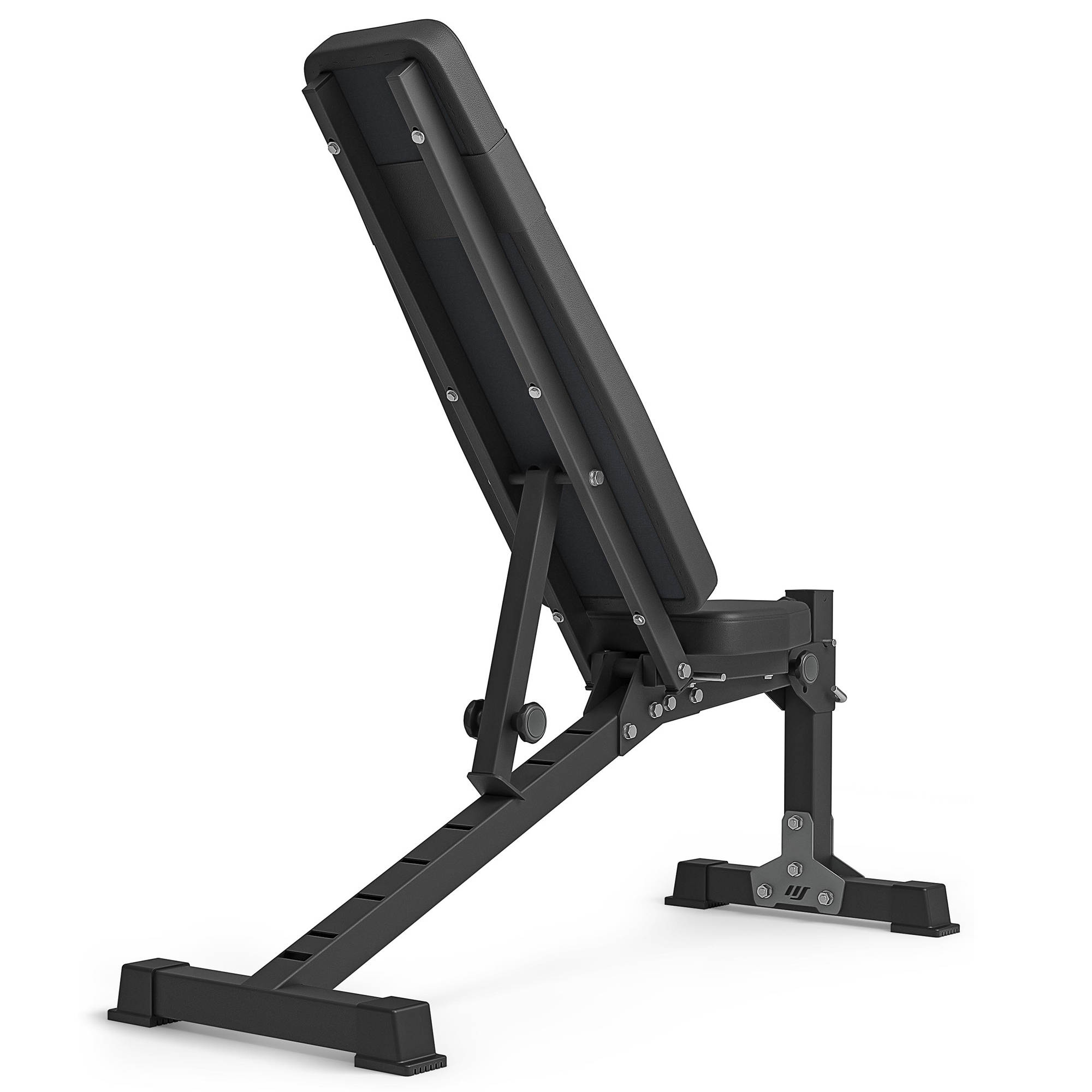 Backrest and seat adjustment
The angle during exercise makes all the difference - whether you are exercising with barbells, dumbbells or training without accessories. When you get it right, you can focus on training the right muscle parts and minimize the risk of injury.
That's why our exercise bench has double adjustment - the seat (2 positions) and the backrest (8 positions). Adjust them relative to each other as you need.
Easy expansion with additional accessories
Do you like multifunctional solutions? Great for folding! This workout bench is easy to expand. Turn it into an exercise combo by attaching other accessories from the Semi-Pro 2.0 series, such as:
lift,
prayer bar,
leg press.
Attaching them is easy and fast - it takes just a few seconds to attach the additional elements to the special holder and get a stable structure for a comprehensive workout.
Reinforced upholstery - no more rubbing
Upholstery in Marbo Sport equipment has long provided maximum exercise comfort and great looks. In this bench, we made sure that the covering will maintain perfect condition for years. The secret of its success is its additional reinforcement on the backrest - in the place where the most frequent abrasions occur we placed an additional layer of sturdy leather with our logo.
Feet made of reinforced rubber compound - greater stability and ground safety
The rubber compound used makes the bench stand firmly in place and does not move, even when you perform very intense exercises. This increases your safety and the comfort of your workout.
In addition, the feet prevent scratching the floor on which the exercise bench is set - important if you use it in a small apartment, for example.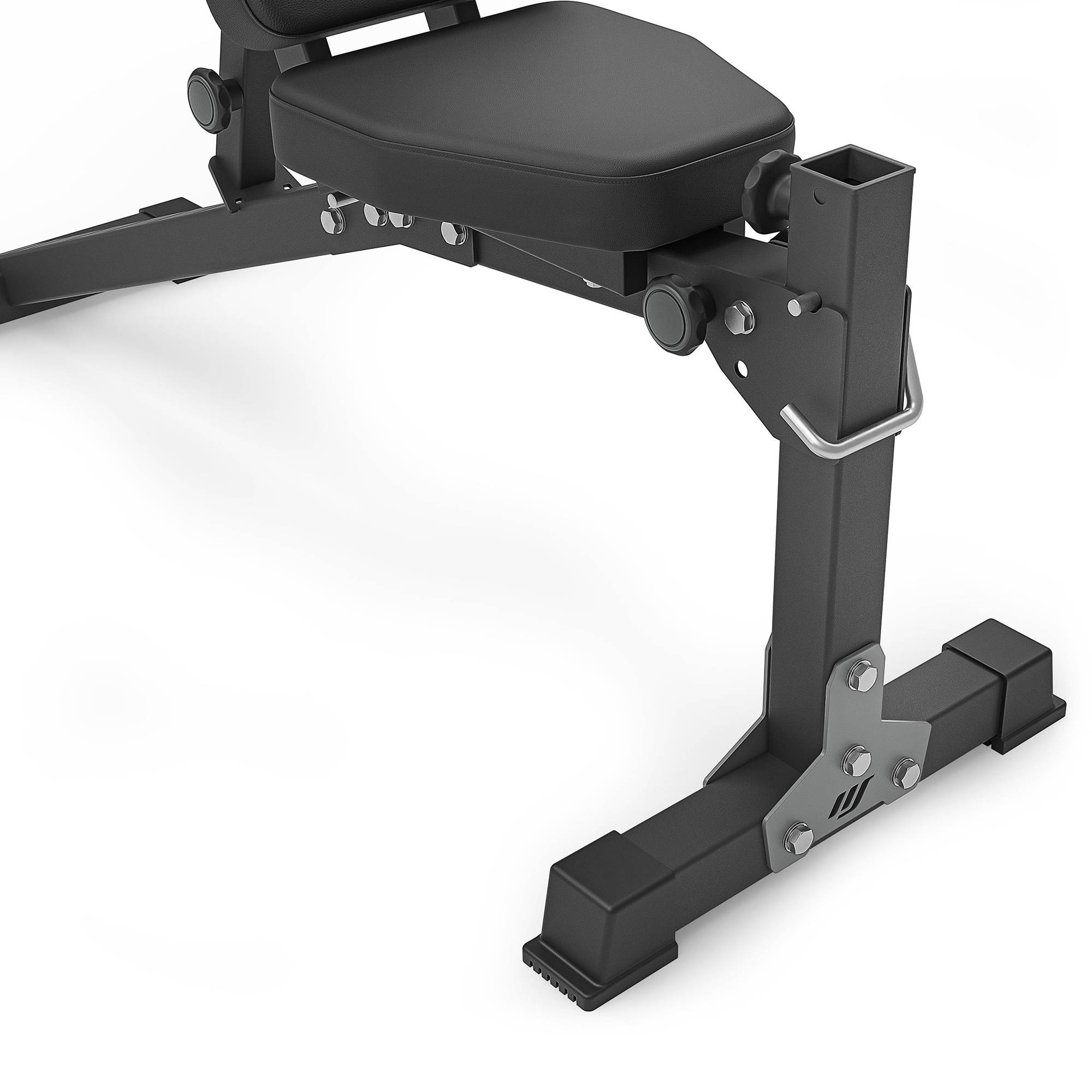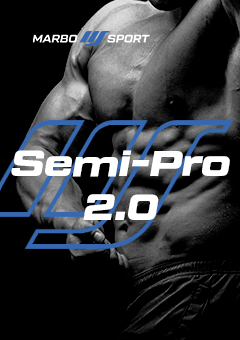 Semi-Pro 2.0 series - a new generation of bestsellers
Semi-Pro 2.0 is Marbo Sport's new series of equipment and accessories designed for advanced home users.
This is the new edition of the cult Semi-Pro series, in a refreshed and improved version. The well-known quality, ergonomics and stability have been given a new design. Elegant black upholstery combined with subtle details in silver and steel tones and a discreet logo are the essence of modern style.
The machines make a great impression and look extremely professional - they are even more stable, safer and more ergonomic.
The wide range of equipment includes equipment for strength and endurance exercises, with and without weight, shaping various muscle parts. The machines provide precise and wide range of adjustment. This allows you to fit them to the training needs of each user.
The equipment can be easily combined with each other - so as to create compact and complete sets for professional exercises. This is an excellent choice for those who do more intensive and advanced training on a daily basis.
113 cm, 133 cm (at a 0° angle of support)
Dimensions of the backrest
8 positions (85° 65° 52° 40° 29° 16° 0° -22°)
Marbo was founded over 40 years ago in Starachowice. We started with the production of simple equipment for home gyms, to constantly increase the range and quality of products together with the experience gained. Today we are the leading manufacturer of bodybuilding equipment in Poland, offering world-class equipment. We have built a brand and gained experience that obliges.
Bodybuilding is our passion, and by combining it with modern machinery, we are able to provide the highest quality equipment, made with attention to detail, and above all with your comfort and safety in mind.
The company is based in Starachowice in the Świętokrzyskie Voivodeship. This is where the office, production and warehouse halls are located. It is a base from which all forms of online sales and contact with customers are controlled, from which shipments for individual customers and partner stores are carried out. On the company's map, all roads start from Starachowice.