Shoulder adduction machine MP-U236 - Marbo Sport
Product code:
MP-U236-k1t4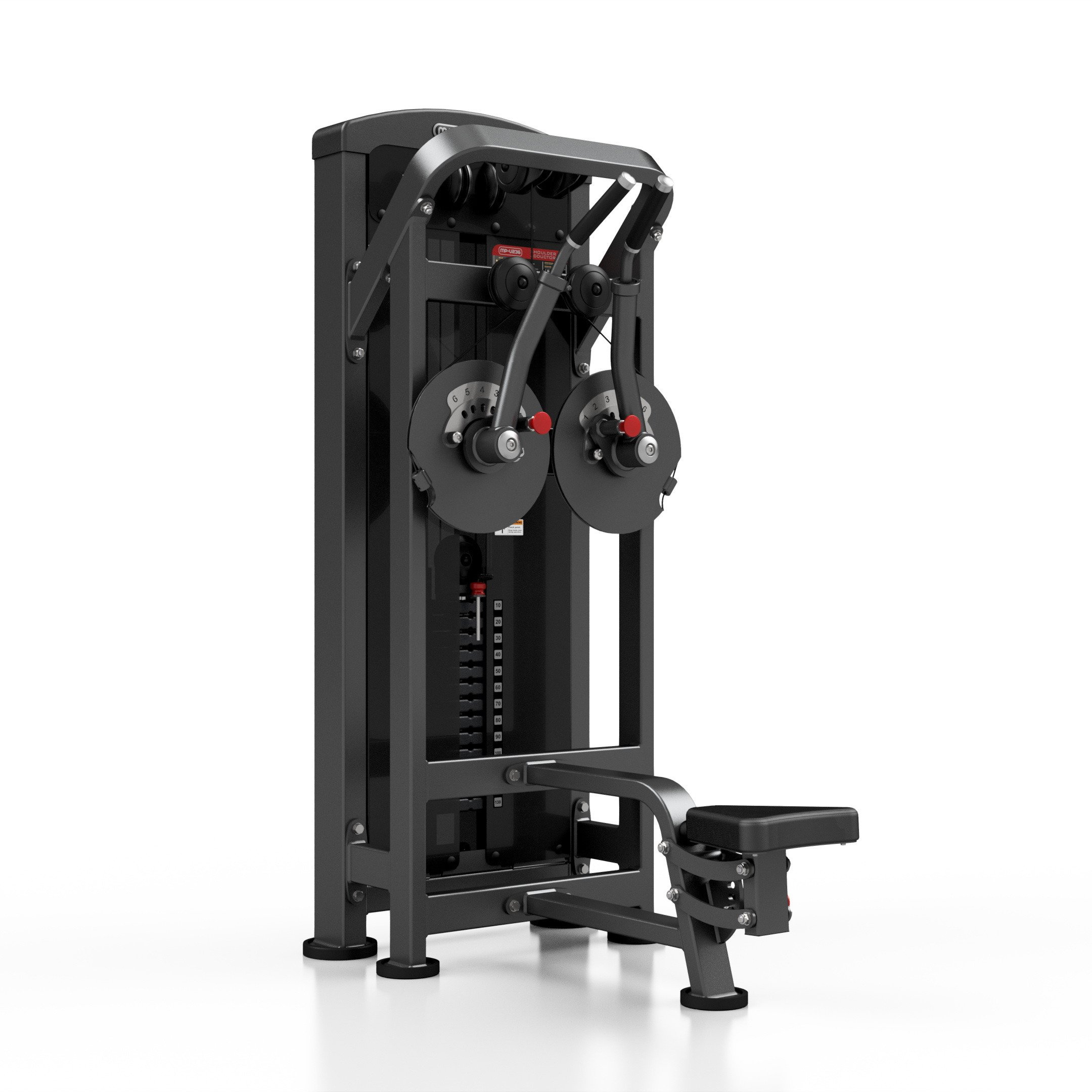 Shoulder adduction machine
If you are looking for absolutely uncompromising solutions, you need equipment that can meet the most demanding requirements and at the same time does not cost a fortune, then our offer is just for you!
Professional muscle machine for shoulder adduction MP-U236 is a specialized device for training chest muscles. Thanks to the adjustable handles and seat, and 130 kg of weights on the stack, anyone from a beginner to an advanced user can exercise on the machine.
With years of experience in manufacturing equipment for commercial gyms, we have managed to create a failure-free product that will not succumb to even the most murderous use. Combined with the use of state-of-the-art sheet metal and profile forming machines, we have created a product that sets new trends in equipment design in this price category.
Stack of 130 kg
We have equipped the MP-U236 machine with a 130 kg stack consisting of 13 bars weighing 10 kg. Such a load distribution will make it possible for both beginners and advanced people to exercise on the lift.
Professional finish
In the new edition of the professional series, the stack housing has a plastic cover, while the stack itself is shielded by translucent Plexiglas panels. Thanks to this solution, the operation of the stack is even quieter, and the whole machine has an aesthetic and eye-catching appearance.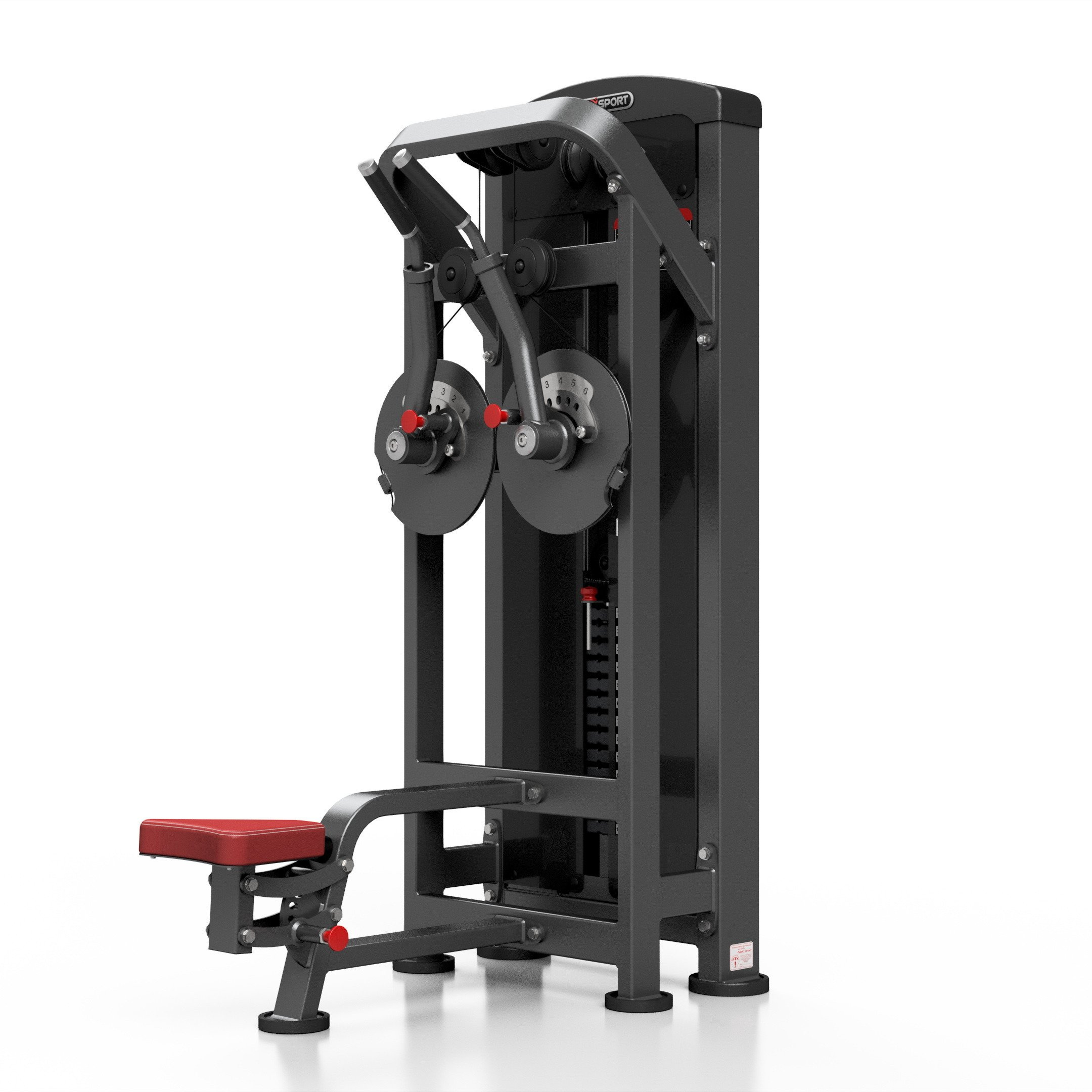 Extensive adjustment system
The following adjustment systems are available on the machine: 6 independent levels of arm position adjustment and a 4-stage seat adjustment. Note the system used to adjust the seat position. The handle is connected to a pneumatic shunt, so you don't have to get down from the machine to adjust the machine. Just pull the handle up, move the backrest forward or backward and let go. Such an extensive adjustment system of the machine guarantees convenience, safety and full training comfort for each of your clients.
Modern upholstery
The upholstery has double reinforcement on each edge of the upholstered element. We were able to achieve this by using thick, strong COATS core thread combined with durable synthetic leather. The backrest and seat elements are set on a solid sheet of #3 mm thickness. Such a construction ensures not only great durability, but also an amazing aesthetic finish to your new equipment.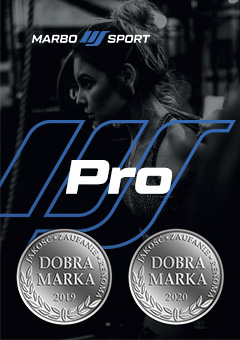 Professional line - equipment for commercial use
The best thing that can happen to a real bodybuilder - Marbo Professional series.
Equipment from this line has a declaration of conformity to the PN-EN 957-4:2007 standard and can be used in commercial and public gyms. Experience the pleasure of exercising on the best equipment on the market! Class: S - Equipment designed for commercial use.
To ensure the safety of your customers, our equipment has been tested for safety and compliance with applicable standards by the European Quality Center.
The result of these tests, are the Safety Certificate and Top Security Certificate, which we received for the equipment in the Professional line.
Marbo was founded over 40 years ago in Starachowice. We started with the production of simple equipment for home gyms, to constantly increase the range and quality of products together with the experience gained. Today we are the leading manufacturer of bodybuilding equipment in Poland, offering world-class equipment. We have built a brand and gained experience that obliges.
Bodybuilding is our passion, and by combining it with modern machinery, we are able to provide the highest quality equipment, made with attention to detail, and above all with your comfort and safety in mind.
The company is based in Starachowice in the Świętokrzyskie Voivodeship. This is where the office, production and warehouse halls are located. It is a base from which all forms of online sales and contact with customers are controlled, from which shipments for individual customers and partner stores are carried out. On the company's map, all roads start from Starachowice.