Stationary pull up bar with racks dip station MS-U116 2.0 - Marbo Sport
Product code:
MS-U116 2.0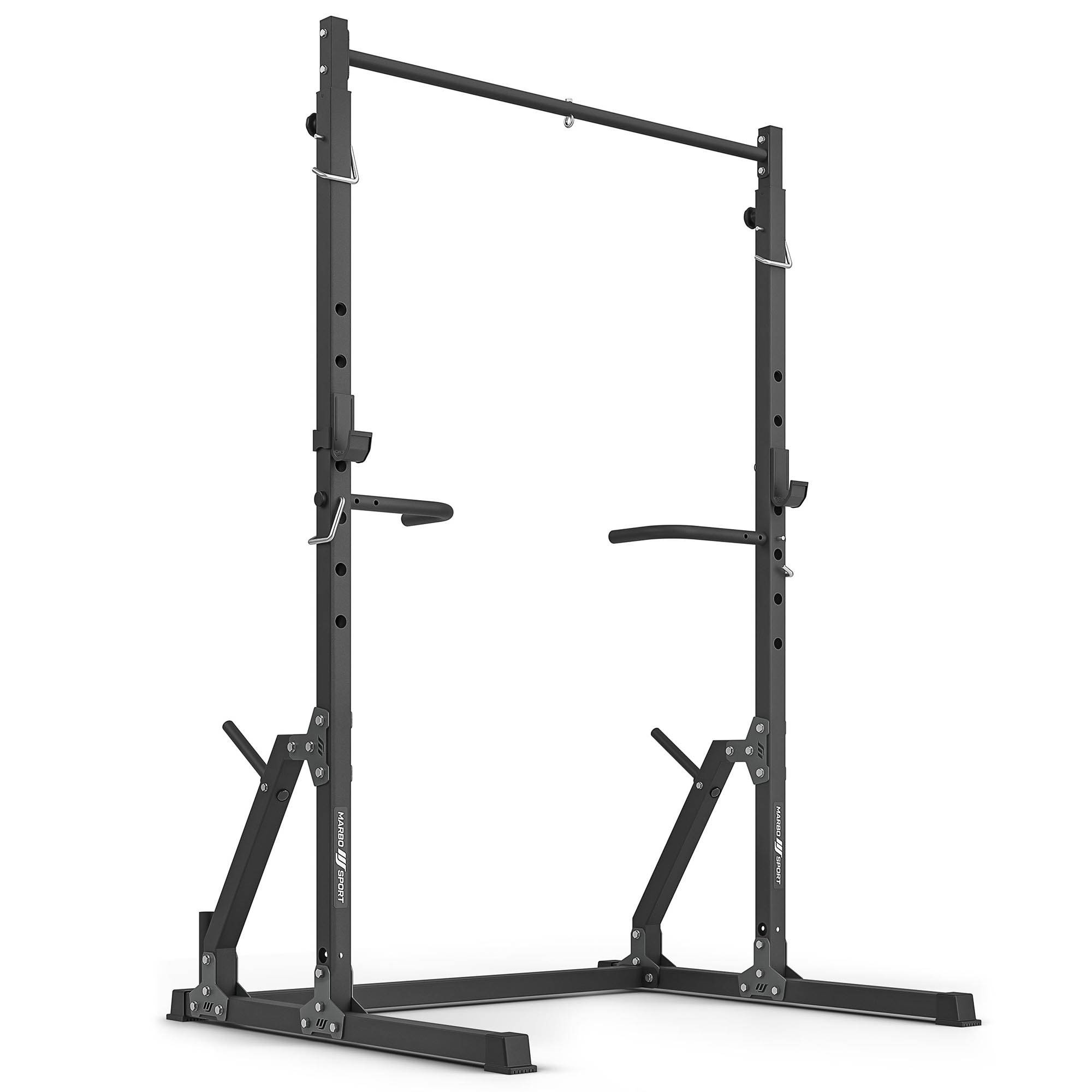 Stationary bar with stands and dip handrails MS-U116 2.0 is a sturdy design that allows you to perform a wide range of upper and lower muscle exercises.
Its multifunctionality makes it find its use during:
exercises with barbells;
exercises using your own body weight;
boxing training.
MS-U116 2.0 from Marbo Sport is a product that both beginners and experienced strength training enthusiasts will appreciate.
Barbell stand
MS-U116 2.0 is equipped with adjustable belay handles that allow you to put down the barbell. Thanks to the option of setting the hooks at as many as 7 height levels, we get the possibility to train with a barbell in a standing position and in combination with a bench.
Using the MS-U116 2.0 from Marbo Sport, you will perform, among other things:
exercises with a barbell on a bench,
squats with a barbell;
deadlifts on straight legs;
toe climbs while standing with a barbell on your neck.
Secure with a layer of rubber
Don't worry about the hooks scratching after a few months of intense training. We've covered them with a layer of durable rubber, so the design will keep its attractive appearance for a long time.
Dip Handrails
Adjustable handrails for dips with is the ideal solution for people who want to vary the sophistication when performing push-ups on the handrails.
The handrails can be set at two heights - a higher one to increase the difficulty of the exercise, and a lower one for training forward push-ups.
In addition, they have a 3-position spacing adjustment, so you can adjust them to your individual training preferences.
Load storage bars + griffin holder
Two bars allow you to conveniently store the weight plates - so that they are safe and easily accessible during your workout.
A sleeve has also been placed in the base of the structure, which allows you to store a griffin with a diameter of up to 30 mm.
Pull-up bar
Pull-up bar is one of the most popular and effective forms of training, allowing you to effectively improve strength, endurance and increase muscle mass. The MS-U116 2.0 bar has a height adjustment in 5 levels (in 10 cm increments), so you can adjust it to your needs and height.
Hook for a boxing bag
In addition, the bar is equipped with a handle that allows you to quickly and conveniently hang a bag, allowing you to perform boxing training at home.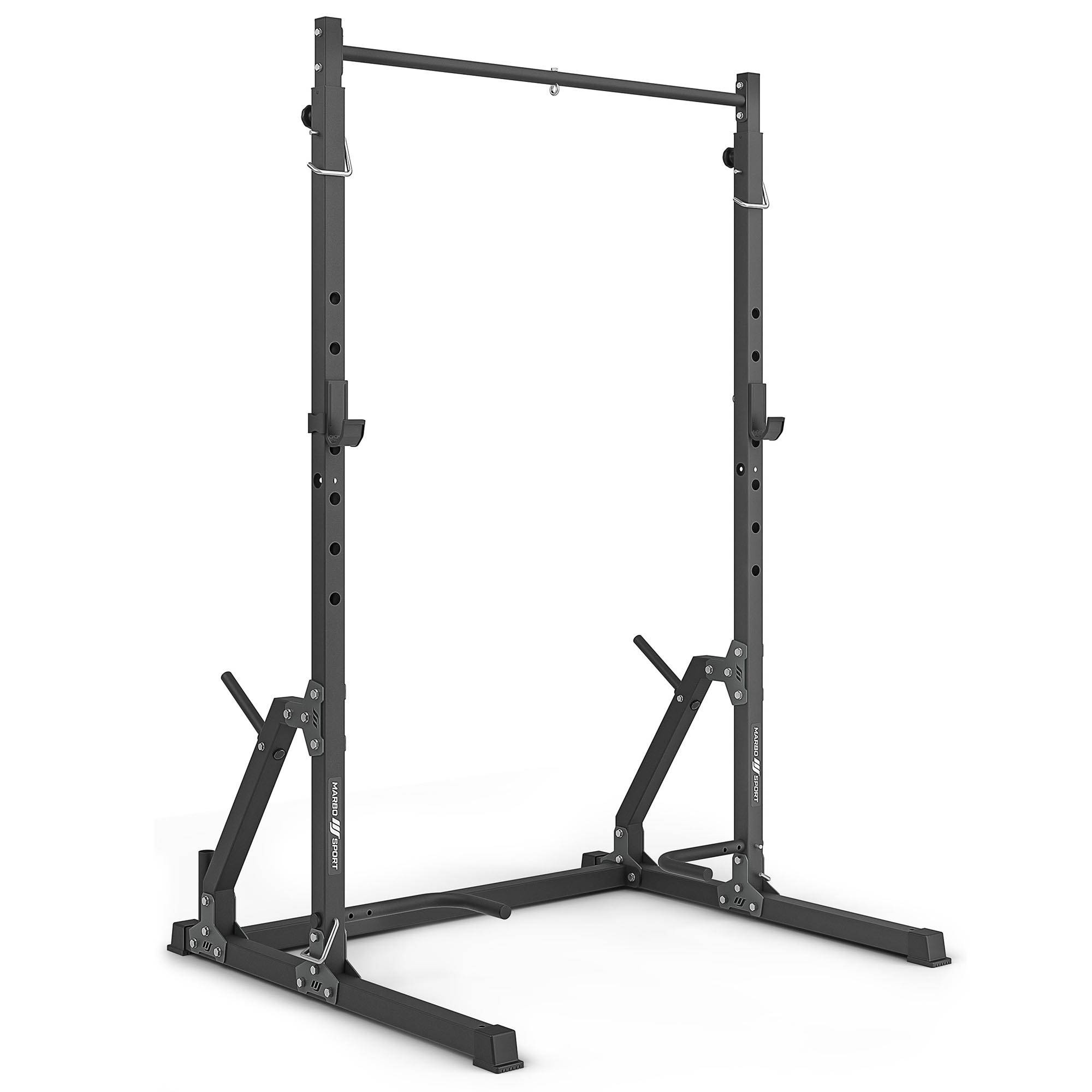 Rubber feet
Rubber feet prevent scratching the floor during your workout. Thanks to them, you are assured of a risk-free workout in your home space - such as on the parquet floor, panels, carpet or tiles.
Possibility of anchoring in the floor
In the base of the MS-U116 2.0 there are holes, allowing you to anchor the structure to the ground, thus improving its stability and increasing safety during training. The method of anchoring should be selected individually, taking into account the type of substrate and the use of the product.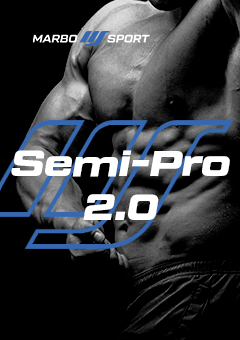 Semi-Pro 2.0 series - a new generation of bestsellers
Semi-Pro 2.0 is Marbo Sport's new series of equipment and accessories designed for advanced home users.
This is the new edition of the cult Semi-Pro series, in a refreshed and improved version. The well-known quality, ergonomics and stability have been given a new design. Elegant black upholstery combined with subtle details in silver and steel tones and a discreet logo are the essence of modern style.
The machines make a great impression and look extremely professional - they are even more stable, safer and more ergonomic.
The wide range of equipment includes equipment for strength and endurance exercises, with and without weight, shaping various muscle parts. The machines provide precise and wide range of adjustment. This allows you to fit them to the training needs of each user.
The equipment can be easily combined with each other - so as to create compact and complete sets for professional exercises. This is an excellent choice for those who do more intensive and advanced training on a daily basis.
Marbo was founded over 40 years ago in Starachowice. We started with the production of simple equipment for home gyms, to constantly increase the range and quality of products together with the experience gained. Today we are the leading manufacturer of bodybuilding equipment in Poland, offering world-class equipment. We have built a brand and gained experience that obliges.
Bodybuilding is our passion, and by combining it with modern machinery, we are able to provide the highest quality equipment, made with attention to detail, and above all with your comfort and safety in mind.
The company is based in Starachowice in the Świętokrzyskie Voivodeship. This is where the office, production and warehouse halls are located. It is a base from which all forms of online sales and contact with customers are controlled, from which shipments for individual customers and partner stores are carried out. On the company's map, all roads start from Starachowice.