Weight tree MS-S103 2.0 - Marbo Sport
Product code:
MS-S103 2.0
If you want your home gym to be tidy and the loads to be stored in the right way - check out our MS-S103 2.0 rack. This is an excellent product with great stability and durability. The rack will accommodate weight plates weighing up to 300 kg and two griffins.
Specially designed grips for griffins placed in the base of the rack increase its functionality. You don't have to worry about space in your home gym - using the MS-S103 2.0 load rack saves space, increasing your workout area.
The MS-S103 2.0 load rack is built of durable, high-quality steel, 50x50 profiles ensure the stability of the entire structure.
6 bars for storing weights
You can store the weights on the 15 cm long rods, which have been arranged respectively on three levels, allowing you to store weights of different weights and diameters - up to 300 kg in total! The diameter of the load storage bars is 25 mm.
Grip holders for grips
Two sleeves have been placed in the base of the rack, which allow you to store griffins - one on each side. The maximum diameter of the griffin is 30 mm.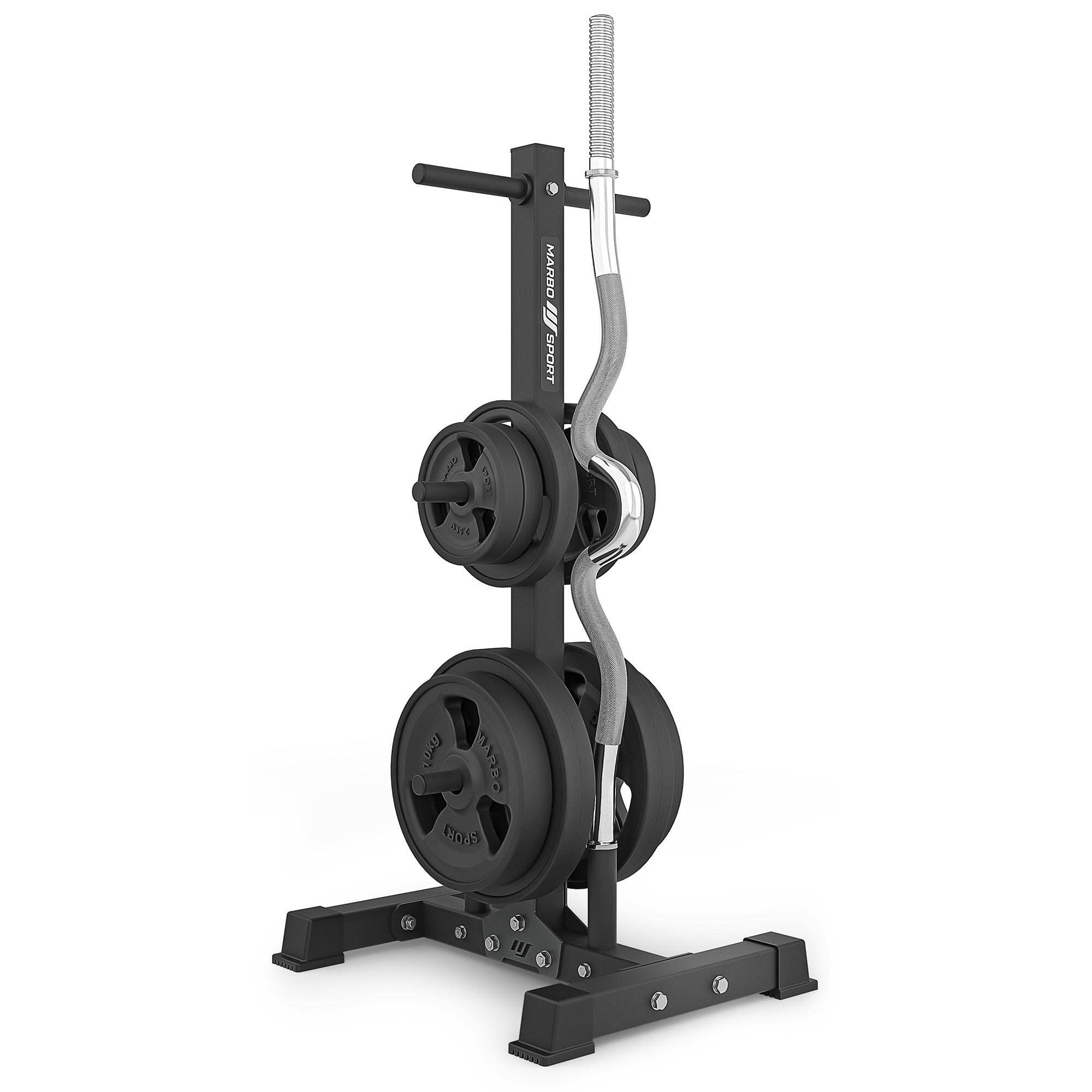 Finishing
The rack has been finished using the powder coating method, which affects not only its aesthetics, but also its resistance to abrasion and other damage.
Stable base
A sturdy base is responsible for the stability of the entire product, the elements of which are made of the highest quality steel. Anti-slip pads minimize the sliding of the stand on the ground.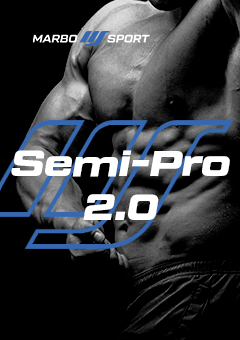 Semi-Pro 2.0 series - a new generation of bestsellers
Semi-Pro 2.0 is Marbo Sport's new series of equipment and accessories designed for advanced home users.
This is the new edition of the cult Semi-Pro series, in a refreshed and improved version. The well-known quality, ergonomics and stability have been given a new design. Elegant black upholstery combined with subtle details in silver and steel tones and a discreet logo are the essence of modern style.
The machines make a great impression and look extremely professional - they are even more stable, safer and more ergonomic.
The wide range of equipment includes equipment for strength and endurance exercises, with and without weight, shaping various muscle parts. The machines provide precise and wide range of adjustment. This allows you to fit them to the training needs of each user.
The equipment can be easily combined with each other - so as to create compact and complete sets for professional exercises. This is an excellent choice for those who do more intensive and advanced training on a daily basis.
Marbo was founded over 40 years ago in Starachowice. We started with the production of simple equipment for home gyms, to constantly increase the range and quality of products together with the experience gained. Today we are the leading manufacturer of bodybuilding equipment in Poland, offering world-class equipment. We have built a brand and gained experience that obliges.
Bodybuilding is our passion, and by combining it with modern machinery, we are able to provide the highest quality equipment, made with attention to detail, and above all with your comfort and safety in mind.
The company is based in Starachowice in the Świętokrzyskie Voivodeship. This is where the office, production and warehouse halls are located. It is a base from which all forms of online sales and contact with customers are controlled, from which shipments for individual customers and partner stores are carried out. On the company's map, all roads start from Starachowice.