Outdoor gymnastic ladder MO-003 Marbo Sport
Outdoor gymnastic ladder MO-003 Marbo Sport
Take care of your form outdoors. Perform exercises with your own body weight safely and comfortably. The outdoor gymnastic ladder from the latest OUTDOOR series from Marbo Sport will allow your whole family to train.
MO-003 is a design that will be perfect for your backyard garden, playground, park, allotment or any other green space. Wherever you want.
This model:
will allow children and adults to exercise;
was made of high-quality materials that are resistant to stress, even during intensive training;
has a modular design - you can expand it with additional elements to enrich your outdoor training.
This is the first step to creating a multifunctional outdoor gym! The ladder is a stand-alone piece that will give you and your loved ones many opportunities for active fun.
Over time, you can attach additional elements to it - such as a pull-up bar, handrails for dips and more. This is how you will expand your training possibilities.
One design - many uses
This outdoor ladder is the perfect accessory for calisthenics enthusiasts. You will perform both strength and endurance exercises on it, as well as training to increase your sense of balance and coordination.
Children will also benefit from it - it's a great place for active outdoor play!
As much as 226 cm high and the presence of horizontal and vertical rungs.
On the horizontal rungs you can, for example, pull yourself up or perform dips - strengthening the musculature of the upper body. The vertical ones are great for, among other things:
performing warm-ups before training and stretching,
simple general development exercises, such as hangs, squats, etc.,
corrective exercises for posture defects in children, such as bends and backbends,
performing push-ups,
... and in many other ways.
This is a great exercise inspiration for everyone - regardless of age or physical condition. And it makes you want to move!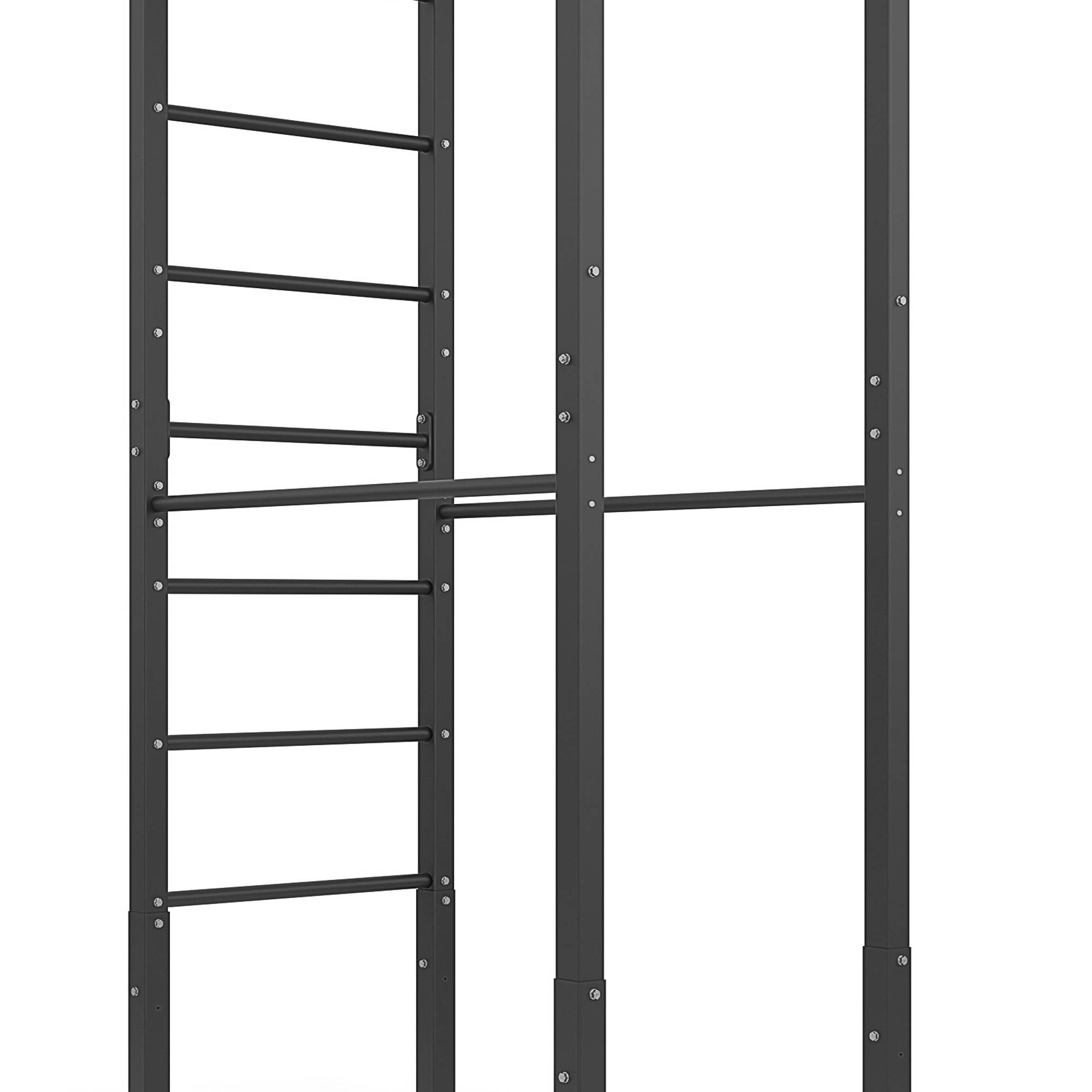 The perfect design for dips
Are handrail push-ups an important part of your daily workout? Or do you want to include them in your set of exercises? Now you can do it!
The design has been enriched with solid bars for dips. They are placed at the optimal height for exercise and provide a comfortable grip.
Stable and robust construction
The high quality of the metal alloy used in the profiles and the precision of the connections of the elements is not everything. In addition, we used reinforcements at the joints. This makes the structure even more stable and safer.
As a result, this training device can withstand a load of up to 110 kg. Exercise without fear!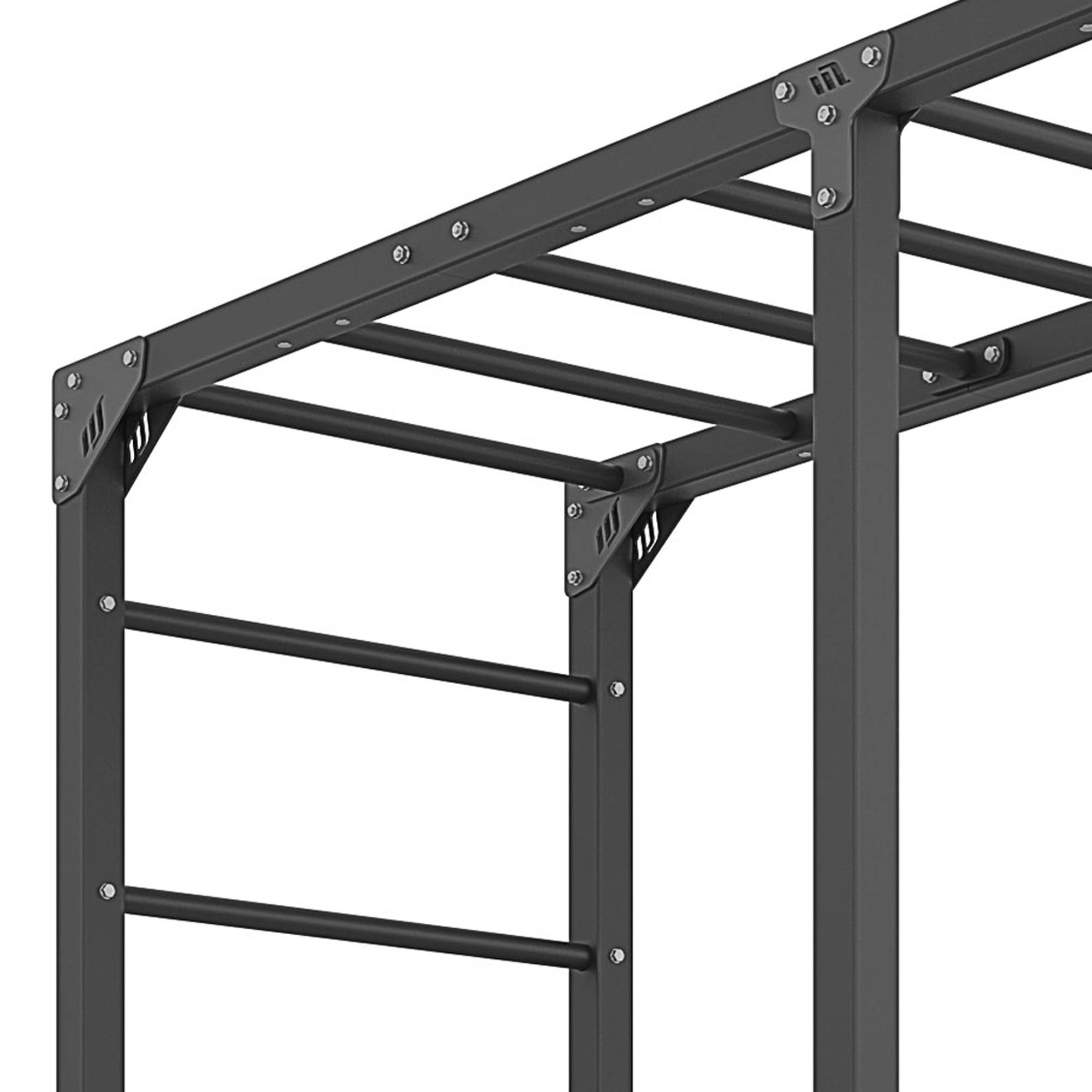 Anchoring / ground fixing option
It is up to you to decide how you will install the outdoor gym elements: by anchoring alone or anchoring with concrete. It all depends on your needs and the conditions of the terrain.
Anchoring alone makes installation quick and easy. This way of fixing the structure is completely sufficient if the ground is stable. In addition, it will give you the opportunity to quickly change the location of the outdoor gym and rebuild it later.
Concreting the posts is a solution that will work when you want to install the elements of the outdoor gym permanently and you want maximum stability, regardless of the nature of the ground. However, this means a more time-consuming installation.
Concreting, therefore, an optional option, for example, for those who plan to use OUTDOOR series equipment very intensively.
OUTDOOR line - an outdoor gym for everyone
Marbo OUTDOOR is a series for people who want to create an outdoor gym tailored to their training needs - professional or amateur - as well as an outdoor recreation space for the whole family. This equipment will work perfectly in the garden, on an allotment or other green space.
The modularity of the system makes it possible for everyone to compose their own set of equipment for exercise and recreation. The basic element of this series is a multifunctional ladder - a self-contained structure that inspires adults and children to spend time actively. It can be expanded with additional elements that broaden the possibilities for training and play - according to your own needs.
Elements of the OUTDOOR series combine uncompromising quality and precision workmanship. They were created on the basis of solid structural profiles and tubes to ensure full safety of use for years.
Special reinforcements made of thick sheet metal increase the strength and stability of the structure. The system can be easily fixed by anchoring in the ground. The posts can also be optionally concreted - according to your preferences. Exercising outdoors has never been easier!
Marbo was founded over 40 years ago in Starachowice. We started with the production of simple equipment for home gyms, to constantly increase the range and quality of products together with the experience gained. Today we are the leading manufacturer of bodybuilding equipment in Poland, offering world-class equipment. We have built a brand and gained experience that obliges.
Bodybuilding is our passion, and by combining it with modern machinery, we are able to provide the highest quality equipment, made with attention to detail, and above all with your comfort and safety in mind.
The company is based in Starachowice in the Świętokrzyskie Voivodeship. This is where the office, production and warehouse halls are located. It is a base from which all forms of online sales and contact with customers are controlled, from which shipments for individual customers and partner stores are carried out. On the company's map, all roads start from Starachowice.