MP-S206 2.0 stand with chrome dumbbells 1-10kg - Marbo Sport
Product code:
MP-S206_2.0_110KG-k2
MP-S206 2.0 chrome dumbbell stand is a perfect combination of design, ergonomics and extraordinary functionality.
It is a very strong construction made of thick 4 mm laser-cut sheet metal and powerful 100x50 mm profiles with 3 mm wall! Such a strong material is a real rarity in this type of gym equipment - We do not save on materials, because it is a guarantee that the stand will not lose stability and deform for many years.
Our latest product is proof that simple construction does not have to be primitive and clumsy at all, and original design does not mean a loss of functionality.
UpForm chrome dumbbells are the right choice and investment that will certainly help you create a modern and professional gym. They will prove ideal for training the upper muscles. On each dumbbell there is embossed information about its weight. The ergonomic knurled handles of the dumbbells ensure a reliable grip, while the non-toxic and odor-neutral materials used during the manufacturing process and the rounded edges, guarantee full comfort during training. High-quality chrome plating provides an aesthetically pleasing design and high resistance to scratches and abrasion.
Set of high-quality chrome-plated fixed dumbbells 1-10kg with a total weight of 110kg.
The set includes:
2 x 1 kg
2 x 2 kg
2 x 3 kg
2 x 4 kg
2 x 5 kg
2 x 6 kg
2 x 7 kg
2 x 8 kg
2 x 9 kg
2 x 10 kg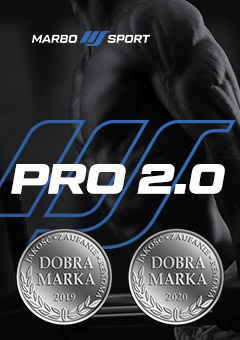 PRO 2.0 line- equipment for commercial use
The best that a real bodybuilder can meet - Marbo PRO 2.0 series.
Equipment from this line has a declaration of conformity to PN-EN 957-4:2007 and can be used in commercial and public gyms. Experience the pleasure of exercising on the best equipment on the market! Class: S - Equipment designed for commercial use.
To ensure the safety of your customers, our equipment has been tested for safety and compliance with applicable standards by the European Quality Center.
As a result of these tests, we have received the Safety Certificate and Top Security Certificate for the PRO 2.0 line of equipment.
MP-S206 2.0 chrome dumbbell stand
Stand weight without dumbbells 32 kg,
Materials Profile 100x50x3 Sheet 4mm,
Covered area 0,41 m2,
Set of chrome dumbbells 1-10kg
Length of the grip part 12 cm (+/- 1cm),
Diameter of the grip part 30 mm (at the thickest point) 22 mm (at the extremities versus the narrowest point),
Marbo was founded over 40 years ago in Starachowice. We started with the production of simple equipment for home gyms, to constantly increase the range and quality of products together with the experience gained. Today we are the leading manufacturer of bodybuilding equipment in Poland, offering world-class equipment. We have built a brand and gained experience that obliges.
Bodybuilding is our passion, and by combining it with modern machinery, we are able to provide the highest quality equipment, made with attention to detail, and above all with your comfort and safety in mind.
The company is based in Starachowice in the Świętokrzyskie Voivodeship. This is where the office, production and warehouse halls are located. It is a base from which all forms of online sales and contact with customers are controlled, from which shipments for individual customers and partner stores are carried out. On the company's map, all roads start from Starachowice.