Power tower MH-U102 - Marbo Sport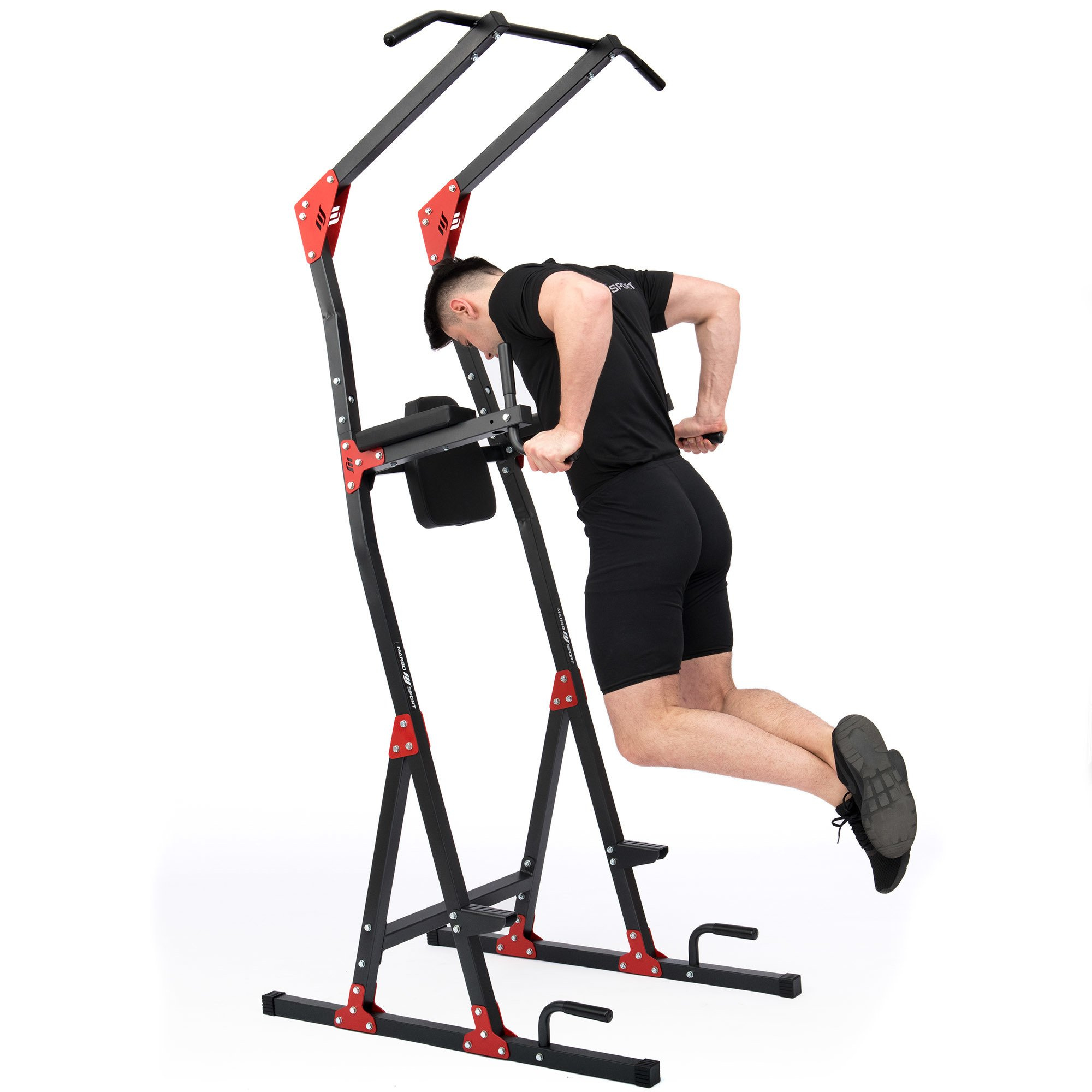 Would you like to strengthen so many different muscle groups at the same time with comprehensive training? Then our new Marbo Sport Dip-Station MH-U102 is exactly the right training device for you! Our latest generation dip station is a compact, stationary piece of sports equipment that is perfect for small rooms where there is not much space. With our dip station, shaping your dream body and keeping it for the long term will finally become a real piece of cake.
At this workout station, you train both your abs by lifting your legs and your triceps by doing dips. Thanks to the handles for the push-ups exercise, you will be able to do them in the traditional way without any problems. To enable versatile use of our training equipment, we have integrated an additional pull-up bar at a height of 226 centimeters. This enables pull-ups with a wide grip, which optimally trains the muscles of the back.
Your height does not matter - our new generation dip station is 2257 mm high. Thanks to these dimensions, even very tall people can exercise comfortably and safely on the device at home. The feet, which have been extended by 10 centimeters, always convey a feeling of security during training and the rubber feet offer additional stability for all types of floors - without scratching them!
Two comfortable arm pads ensure maximum comfort during your workout , the large backrest and four rubberized handles. The padded armrests are profiled towards the inside, which ensures a stable elbow spacing during abdominal muscle training. This solution, which is actually only used in professional, commercial equipment, is now also popular in our home line of training equipment, which enables safe and varied training to be completed at home.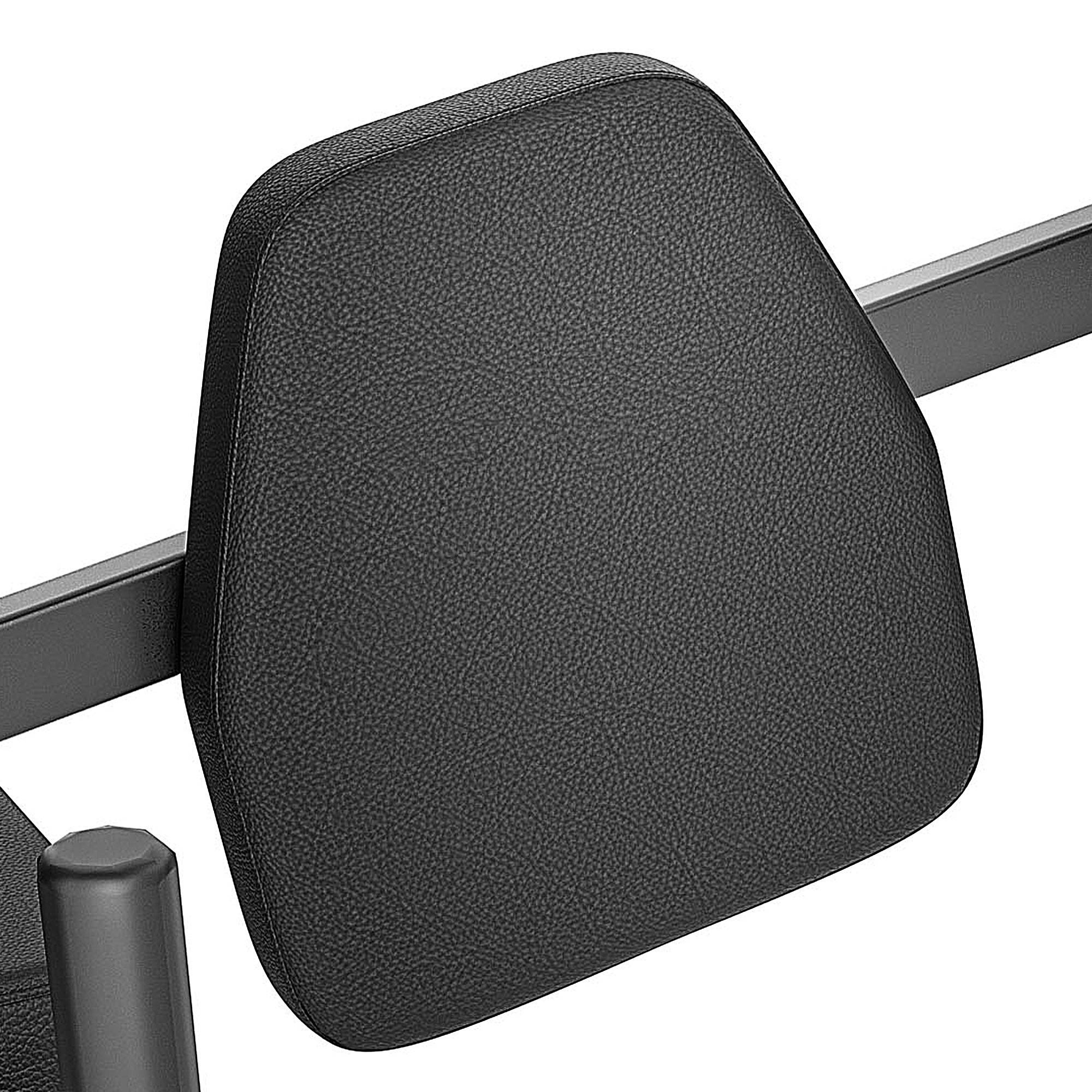 Possible exercises:
Dips
Hip flexion (leg raises)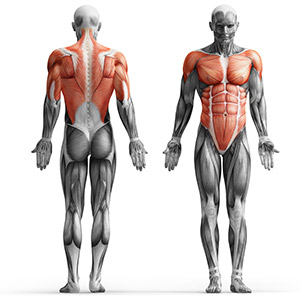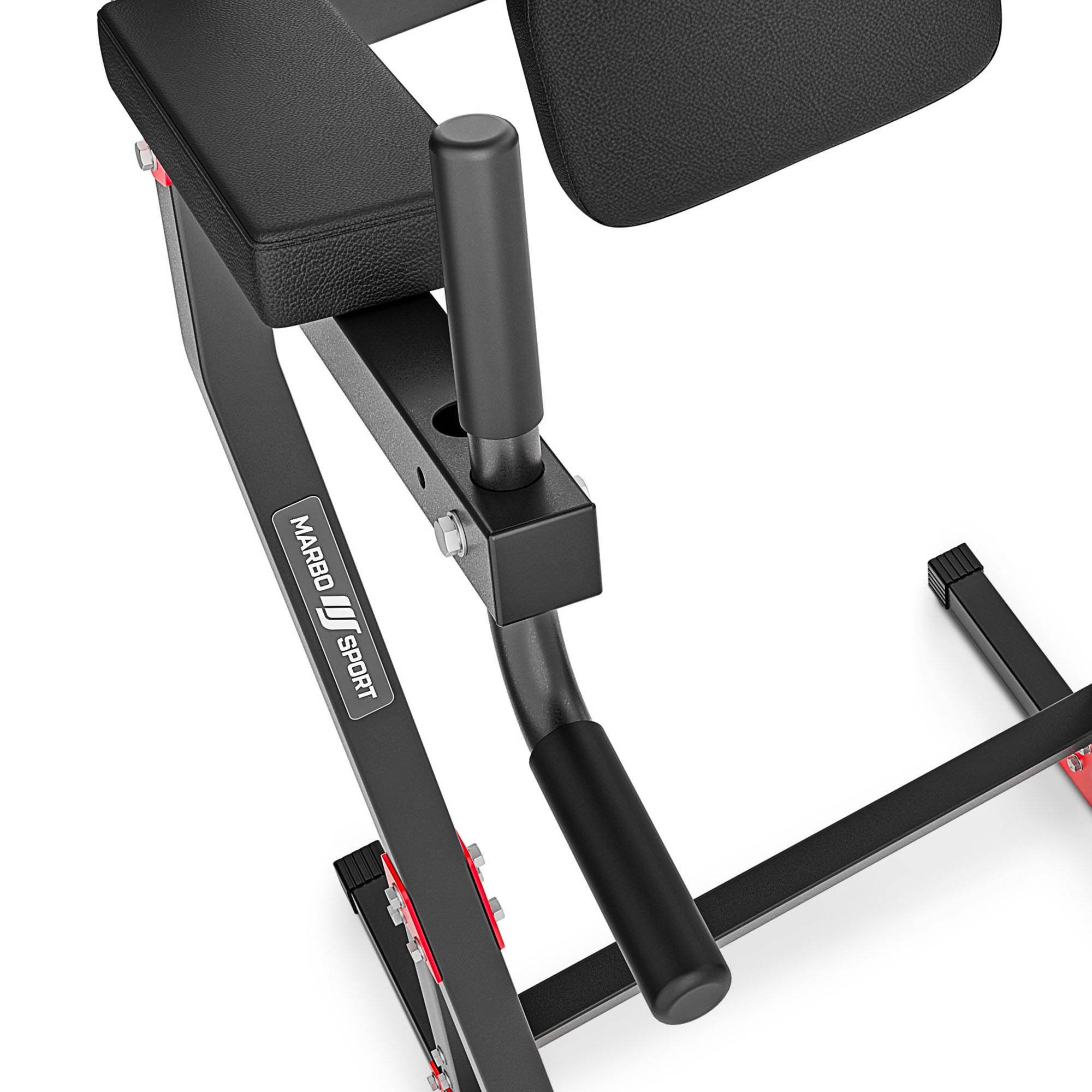 Adjustable handle
The handle on the armrests can be individually adapted to your needs using a toggle handle. You can set it at two different distances from the wall - at a distance of 43 cm and 47 cm. You can then safely lock the handles in your desired position. We have equipped the handles with non-slip rubber for even greater training comfort.
Ergonomic armrests
Training equipment must not only be functional, but also be comfortable to use. In the new generation of our MH-U102 training device, we have used a solution that is otherwise only known from professional strength training devices that are used for commercial purposes. Ergonomic, inclined and contoured armrests have been integrated into this model, providing comfortable and safe support for your elbows. An additional advantage of this solution is that the elbows are kept apart so that the abdominal muscles are also effectively used during exercise.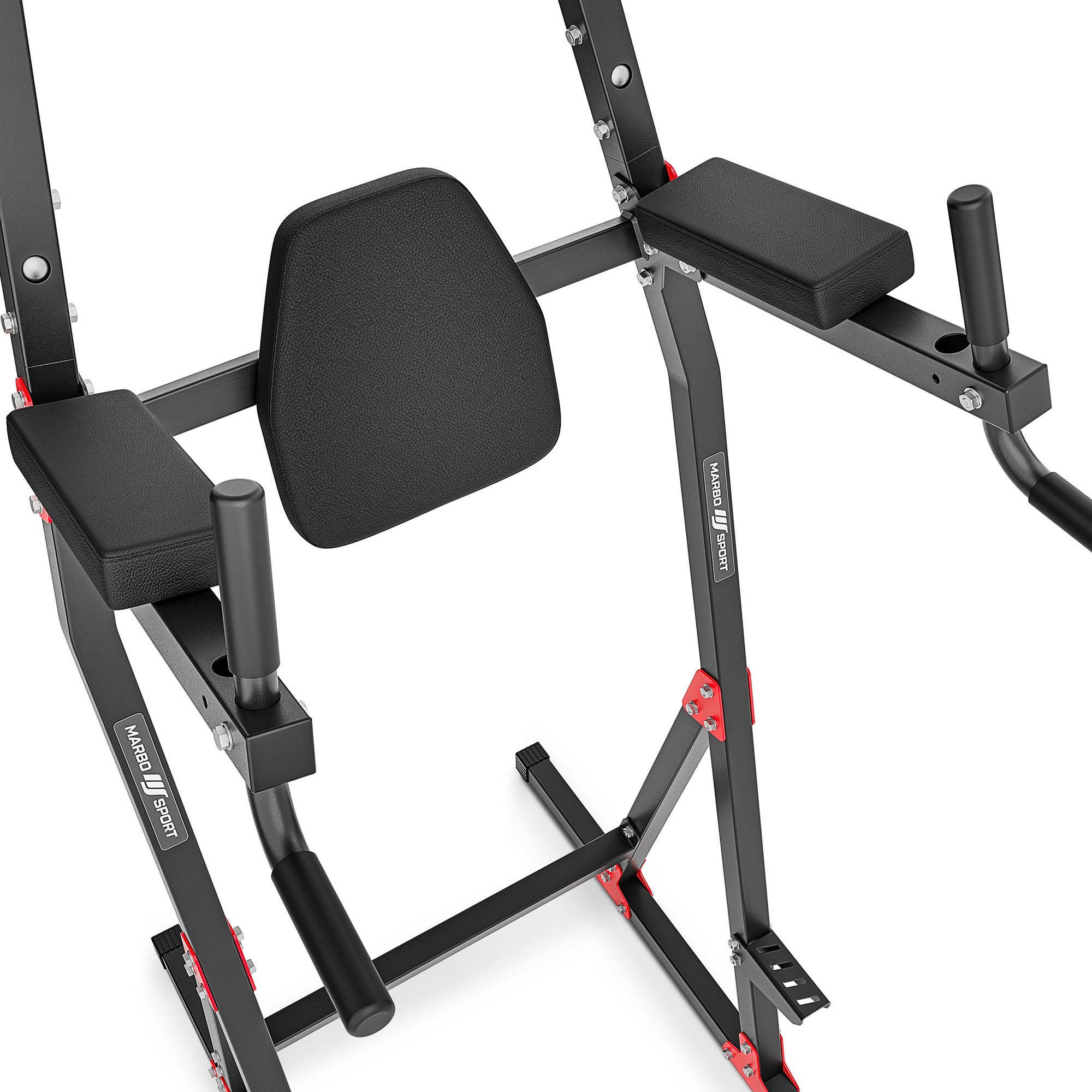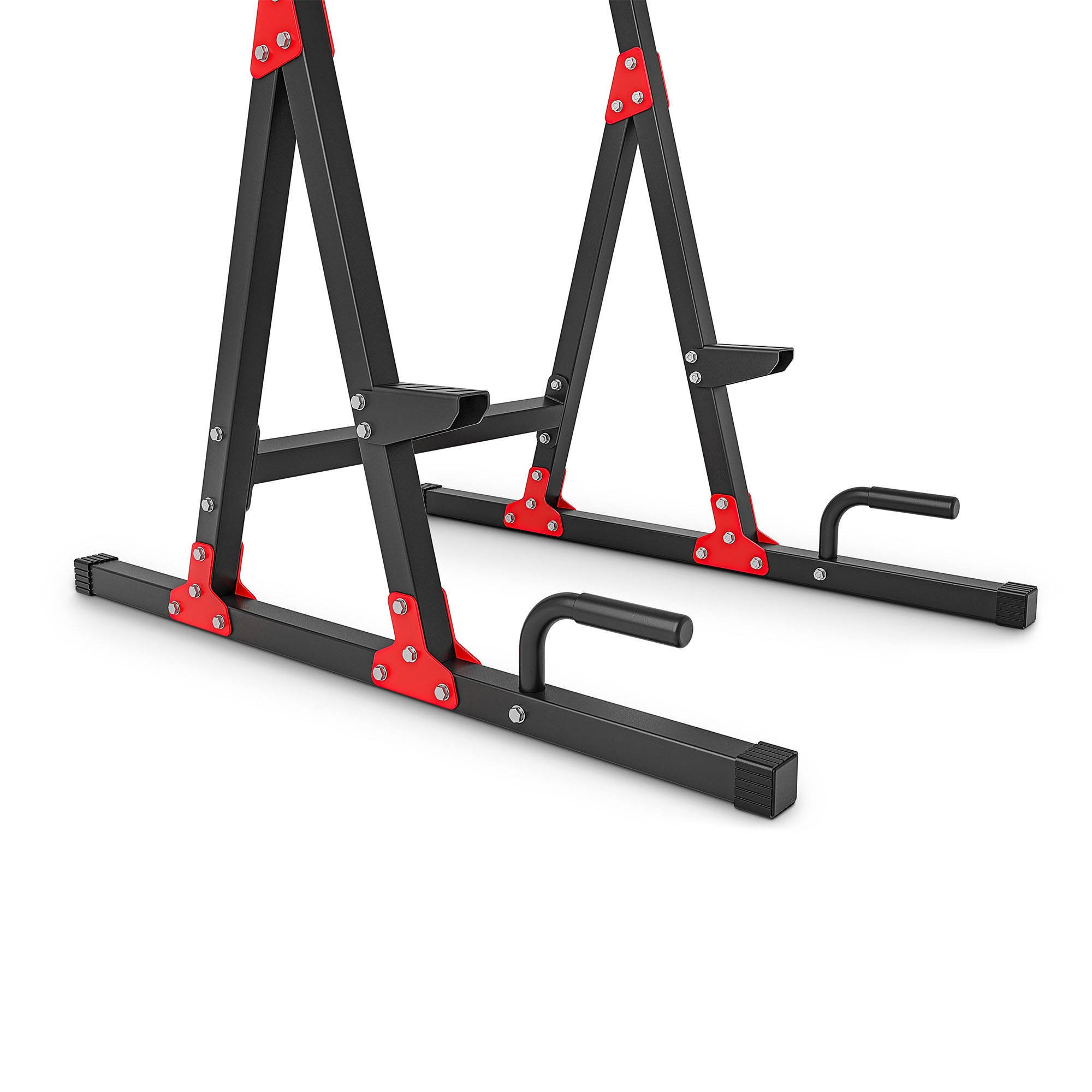 Handles for push-ups
We always aim to make our equipment so multifunctional that you can achieve excellent training results without having to invest in additional sports equipment. The new dip station MH-U102. therefore has push-up handles to round off your strength training.
Even more possibilities
Our pull-up and dip station MH-U102 has been provided with a special pull-up bar at a height of 226 centimeters so that you can expand your range of exercises . In addition to the traditional push-ups, it is now possible to pull yourself up on the pull-up bar and thus train your chest, back and arms effectively and holistically. If the pull-up bar is no longer needed for an exercise, you can remove it easily and straightforwardly and put it to one side until you want to use the bar the next time.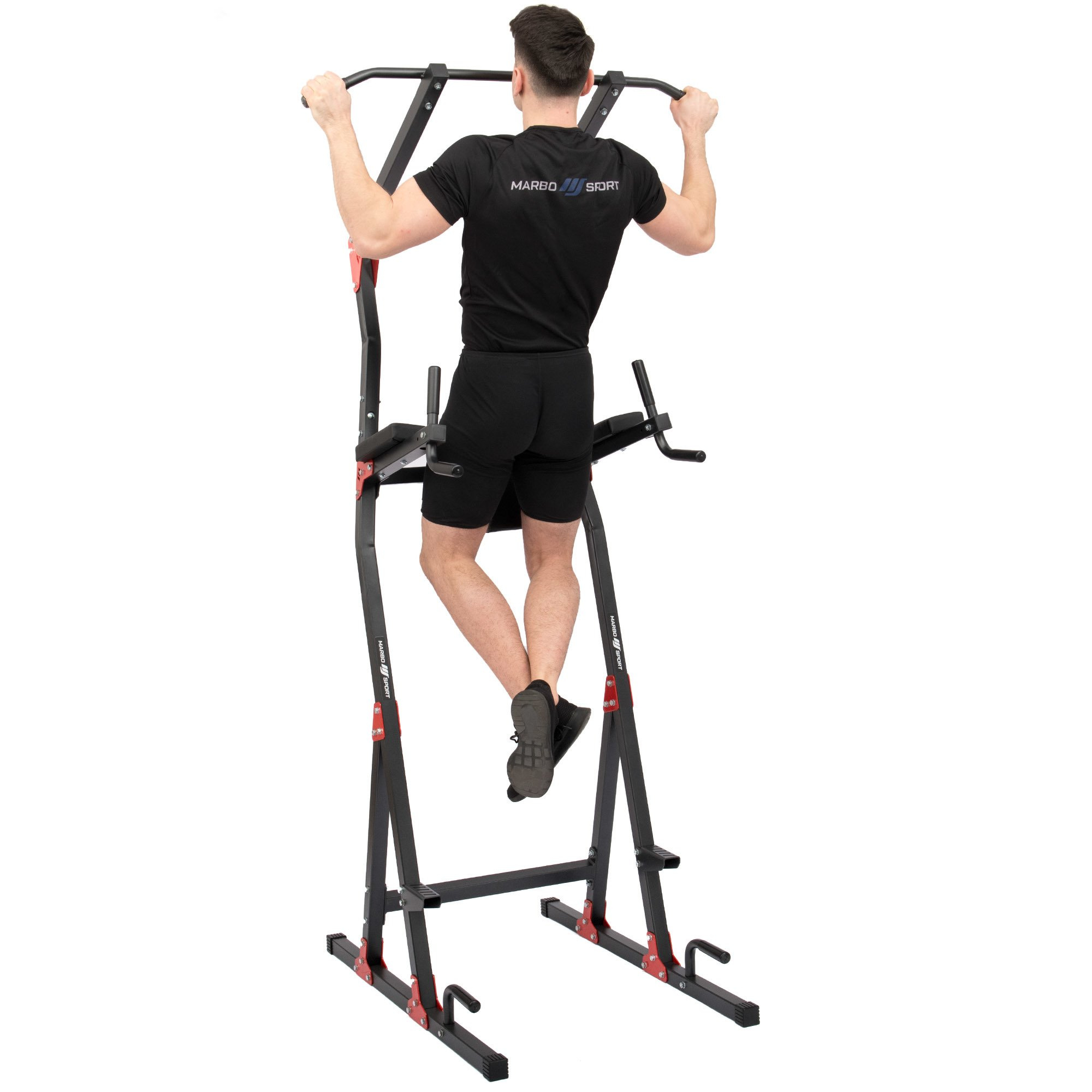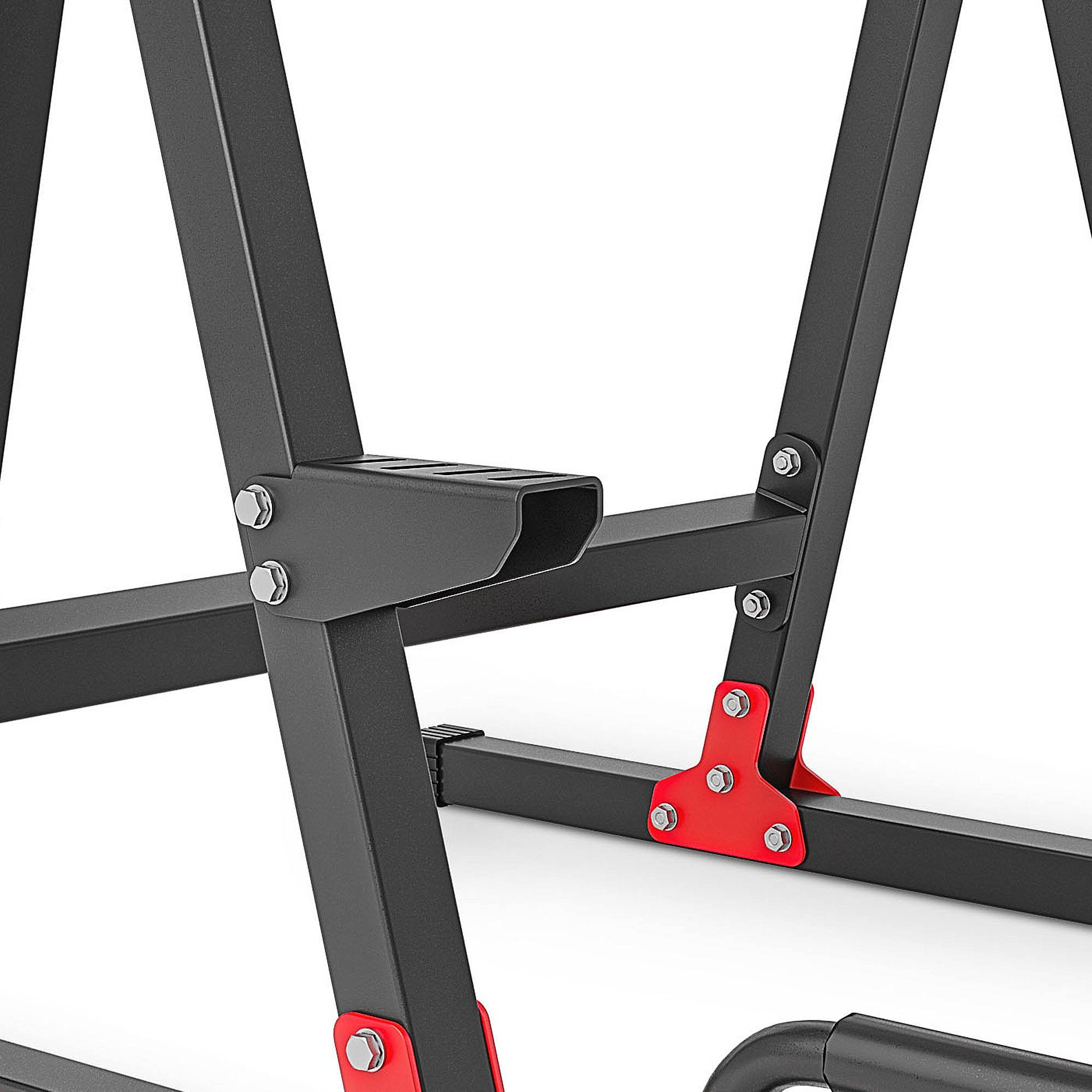 Special platforms for the perfect technique
Pull-ups, dips, leg lifts or push-ups have never been so easy to do! Special platforms help you to always carry out the exercise correctly. This is especially helpful for people who are just starting their bodybuilding journey.
Assembly key for easy assembly
The scope of delivery includes assembly keys with which the Dip Station can be assembled quickly and easily.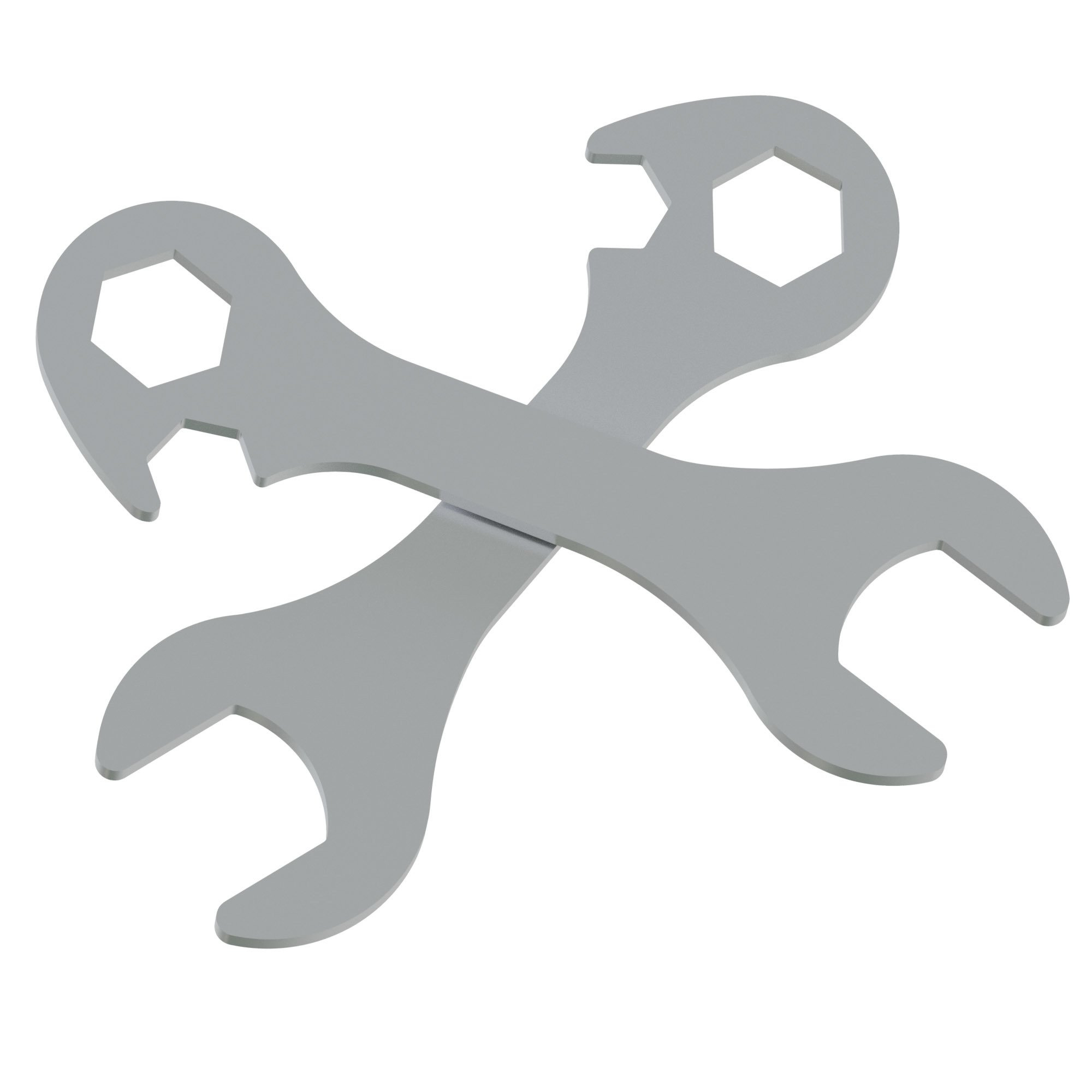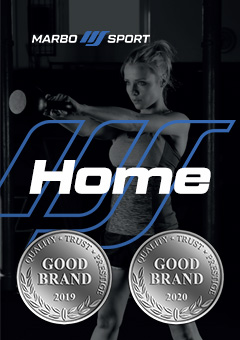 Home line - sports equipment for private use
The Home line is a series of products designed for beginners in bodybuilding and sports enthusiasts who want to gain experience are provided.
The devices are manufactured in such a way that they are functional and easy to assemble. It also guarantees safety and comfort. The products are made of 40 x 40 cm profiles. It ensures the stability that is incomparable with other sports equipment in this price range. The elegant red and black upholstery with a thickness of 3 cm and the powder coating result in great aesthetics.
Safety is the most important thing for us
About safety To guarantee customers, our device is checked for safety and compliance by the European Center for Quality. Our accessories series has achieved the target specifications for examinations. We got the security certificate and top security certificate.
Dimensions of the backrest
The distance of the handrail handles from the backrest
Height of push-up railing
Marbo was founded over 30 years ago in Starachowice. We started with the production of simple equipment for home gyms, to constantly increase the range and quality of products together with the experience gained. Today we are the leading manufacturer of bodybuilding equipment in Poland, offering world-class equipment. We have built a brand and gained experience that obliges.
Bodybuilding is our passion, and by combining it with modern machinery, we are able to provide the highest quality equipment, made with attention to detail, and above all with your comfort and safety in mind.
The company is based in Starachowice in the Świętokrzyskie Voivodeship. This is where the office, production and warehouse halls are located. It is a base from which all forms of online sales and contact with customers are controlled, from which shipments for individual customers and partner stores are carried out. On the company's map, all roads start from Starachowice.