Adapter 25mm/30mm MA-A001 - Marbo Sport
The MA-A001 adapter is a high-quality accessory that allows you to adapt your sports equipment to weight plates with a hole diameter of 31 mm for little money.
An ideal adaptation of your device to the weight plates enables smooth training processes and reduces the risk of damage.
Thanks to the black matt powder coating, the adapter has a perfect appearance and is colourfast.
Warning!
The adapter MA-A001 is not compatible with the articles MS-W106, MS-W105 and MS-U106.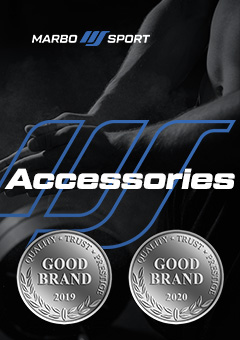 Accessories line - accessories for your Marbo products
Our sports equipment enables more.
Thanks to the extensive range of different accessories, you can constantly expand the functionality of your sports equipment for little money. Nowadays there is only a multitude of possibilities and we know that very well.
From now on, all accessories such as pull-up bars, curl desks, leg presses and platforms form the new Marbo accessories line.
Marbo was founded over 40 years ago in Starachowice. We started with the production of simple equipment for home gyms, to constantly increase the range and quality of products together with the experience gained. Today we are the leading manufacturer of bodybuilding equipment in Poland, offering world-class equipment. We have built a brand and gained experience that obliges.
Bodybuilding is our passion, and by combining it with modern machinery, we are able to provide the highest quality equipment, made with attention to detail, and above all with your comfort and safety in mind.
The company is based in Starachowice in the Świętokrzyskie Voivodeship. This is where the office, production and warehouse halls are located. It is a base from which all forms of online sales and contact with customers are controlled, from which shipments for individual customers and partner stores are carried out. On the company's map, all roads start from Starachowice.