Multi bench with negative angle MS-L106 - Marbo Sport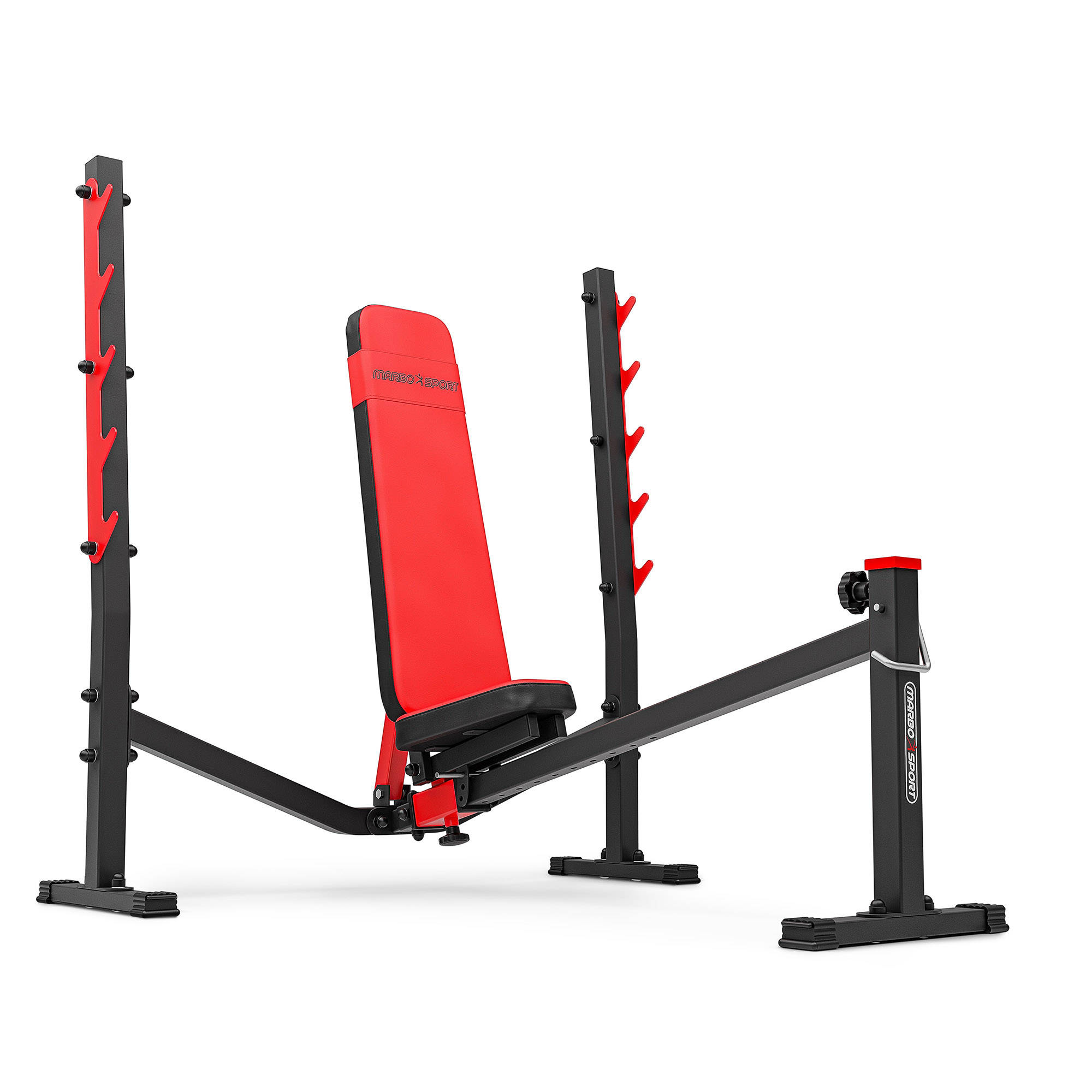 We present the negative incline bench with dumbbell rack MS-L106.
This weight bench has modern and comfortable padding with a thickness of 5 cm, which adapts ideally to the body thanks to its optimal strength.
The MS-L106 has a 130 cm high rack for barbells with 5 rack hooks of different heights.
The hooks are made of sheet steel with a thickness of 4 mm.
They guarantee safety during training.
With the MS-L106 you have the option of a curl desk, a lat pulldown or a leg trainer can also be assembled.
Thanks to this accessory, you can transform the weight bench into a universal and differentiating piece of sports equipment for private use.
This model is ideal for people who have little space for strength training At home.
See what exercises you can do
Press (lying), flat bench
Bicep curls (lying ), Incline bench, dumbbells
Overhead press (lying), flat bench, dumbbells
Butterfly with dumbbells
Hip flexion, incline bench
Side bends, 45 °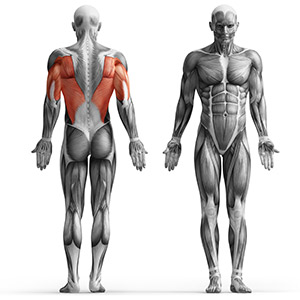 reinforced padding 5 cm
The weight bench MS-L106 has a modern, very comfortable padding. The cushions are 5 cm thick and adapt ideally to the body.
The solid synthetic leather in semi-pro colors is an elegant and ecological material.
System of the backrest adjustment
The weight bench has a quick, comfortable and safe adjustment option for the backrest. The angle is set using a slide with bolts.
Pull the handle, set the desired angle and fasten the handle again to fix the position.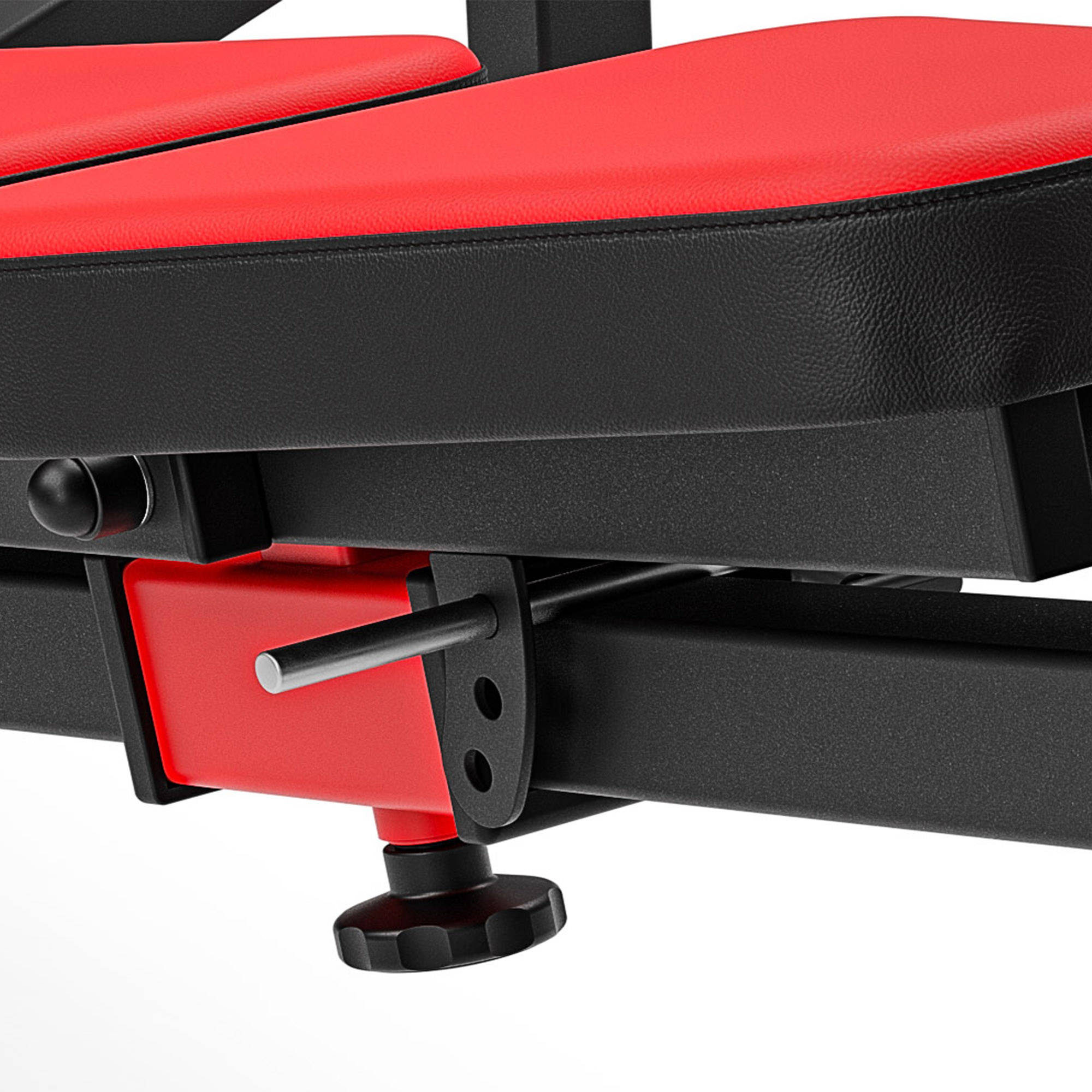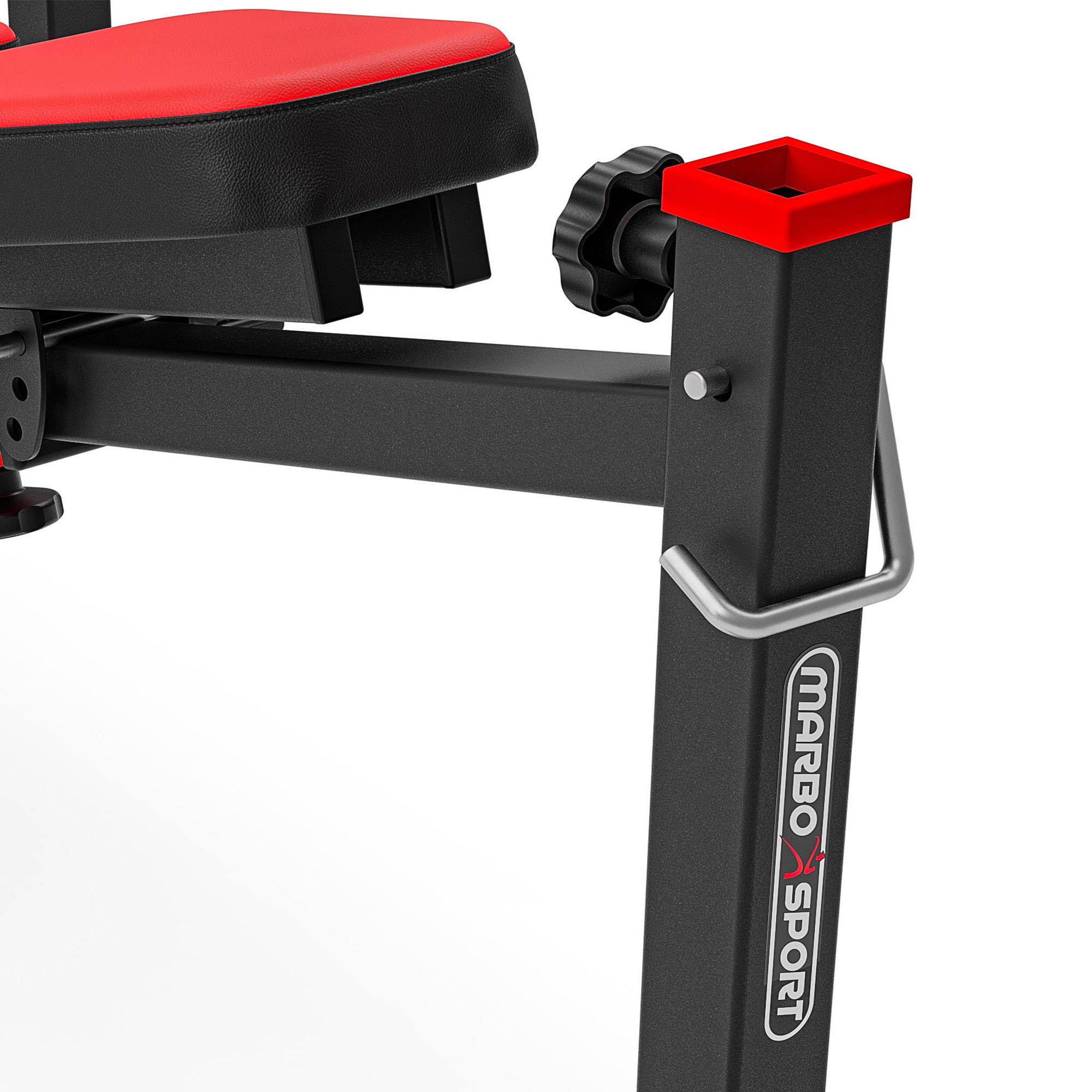 Possibility of mounting the accessories
On this weight bench, you have the option of mounting add-on parts such as a curl desk, lat pulldown or leg trainer from the Semi-Pro Line.
The additional device comes with a special push-button handle locked.
Safety
The new model of dumbbell stands stands out through versatility, stability and an attractive appearance.
The appropriate distance between the shelf hooks allows you to to put the dumbbell down easily and safely at any time.
Adjustment options
The backrest can be adjusted to 13 different angles (1 x negative, 1 x flat, 11 x positive).
The seat is adjustable in three stages and can therefore be ideally adapted to the angle of the backrest. A properly adjusted seat ensures a stable position during training.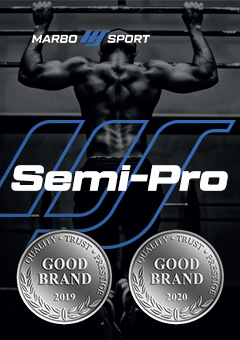 Semi-Pro line - the sports equipment for private use
The Semi-Pro Line was designed for ambitious athletes who value comfort and safety during training. The strong 50 x 50 mm profile with 2 mm wall thickness guarantees the stability of the construction. Thick snap fasteners and high-quality padding in two colors leave no doubt that the sports equipment from Marbo Sport is of top quality. Do not accept compromises - this makes training especially fun!
3 positions (14 °, 26 °, 38 °)
13 pozycji (-13°, 0°, 14°, 22°, 29°, 35°,41°, 46°, 52°, 57°, 63°, 69°,76°)
Marbo was founded over 40 years ago in Starachowice. We started with the production of simple equipment for home gyms, to constantly increase the range and quality of products together with the experience gained. Today we are the leading manufacturer of bodybuilding equipment in Poland, offering world-class equipment. We have built a brand and gained experience that obliges.
Bodybuilding is our passion, and by combining it with modern machinery, we are able to provide the highest quality equipment, made with attention to detail, and above all with your comfort and safety in mind.
The company is based in Starachowice in the Świętokrzyskie Voivodeship. This is where the office, production and warehouse halls are located. It is a base from which all forms of online sales and contact with customers are controlled, from which shipments for individual customers and partner stores are carried out. On the company's map, all roads start from Starachowice.