Garden swing 2-seater (frame) MO-002 - Marbo Sport
Are you planning to build a swing for your kids? Are you looking for a solid solution which will ensure safe fun for your kids? With the MO-002 2-seater frame from Marbo Sport you can easily transform your garden into a playground.
Regardless of whether your child dreams of a traditional swing, rocking chair type "stork's nest" or a wooden suspended bench - you can mount each of these accessories on a steel frame Marbo Sport.
Note: Cables and seat are not part of the set.
The frame allows you to suspend a wide range of accessories, dedicated to both play and sports training. Therefore, the choice of hanging product is left to the customer, allowing you to choose the model, shape and color that will meet their individual expectations.
Durable fixing hooks
Four hooks with snap hooks ensure quick and, most importantly, safe seat assembly without the use of tools. In an equally quick and easy way the seat (as well as any other hanger) can be removed e.g. to hide it from the rain.
This solution also gives you the opportunity to conveniently use multiple accessories. You can easily use one frame as a garden swing, and for example as a hanger for a boxing bag.
Rack MO-002 from Marbo Sport was additionally equipped with hooks for mounting hammock.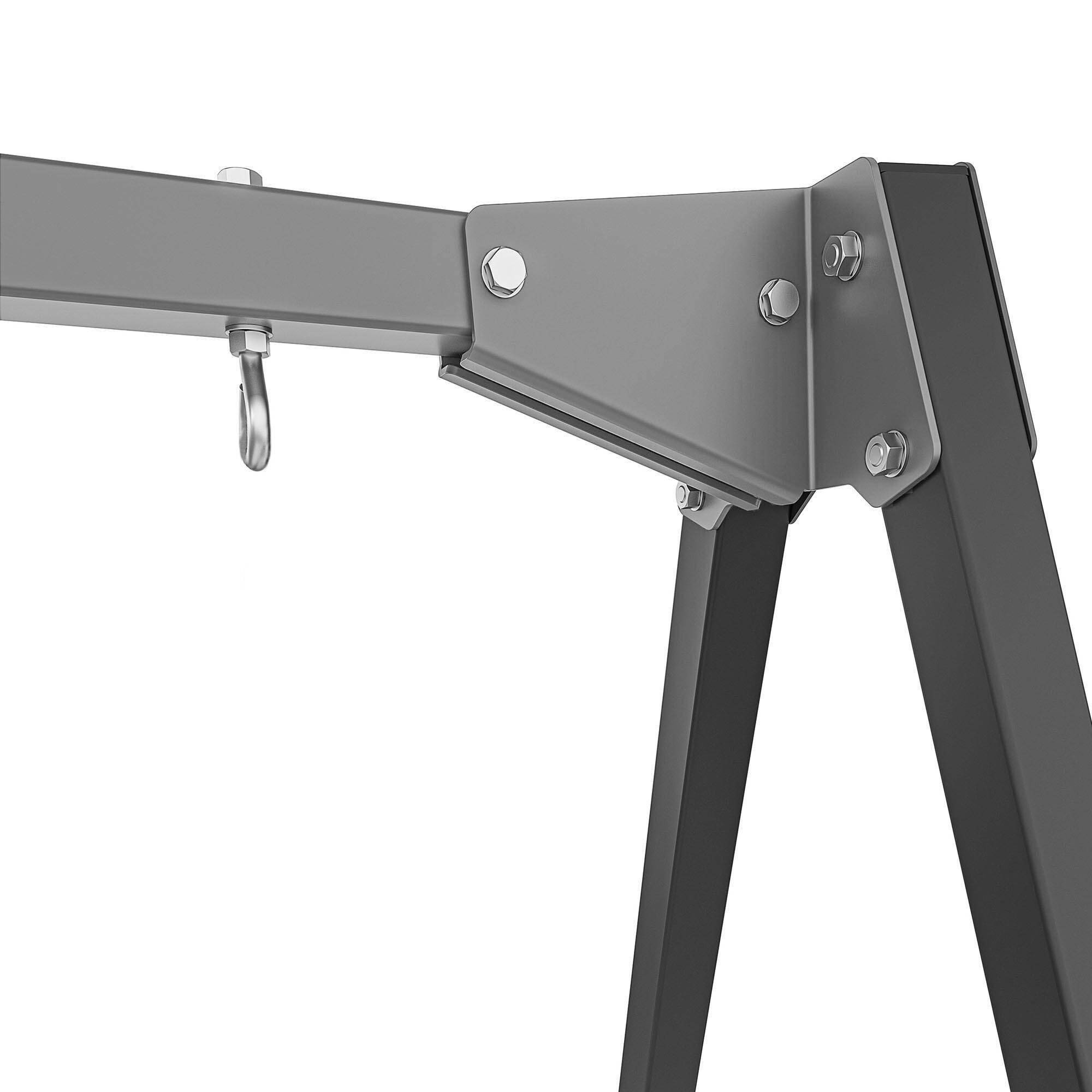 Frame reinforcement
The upper connections between the legs and the crossbar have been further reinforced with a suitably curved fastening element, which increases the stability of the construction and ensures safe use.
The offered product is a high quality, durable and safe construction made of steel profiles with a cross-section 50x50x2 mm, ensuring the load capacity of up to 200 kg.
Open angle of the frame
Total height of the swing is over 2 meters, so that both the youngest and slightly older children can freely use it.
Horizontal crossbar creates an open angle with the legs, which significantly improves the stability of the entire structure.
The frame has been powder coated which increases its resistance to weather conditions and scratches.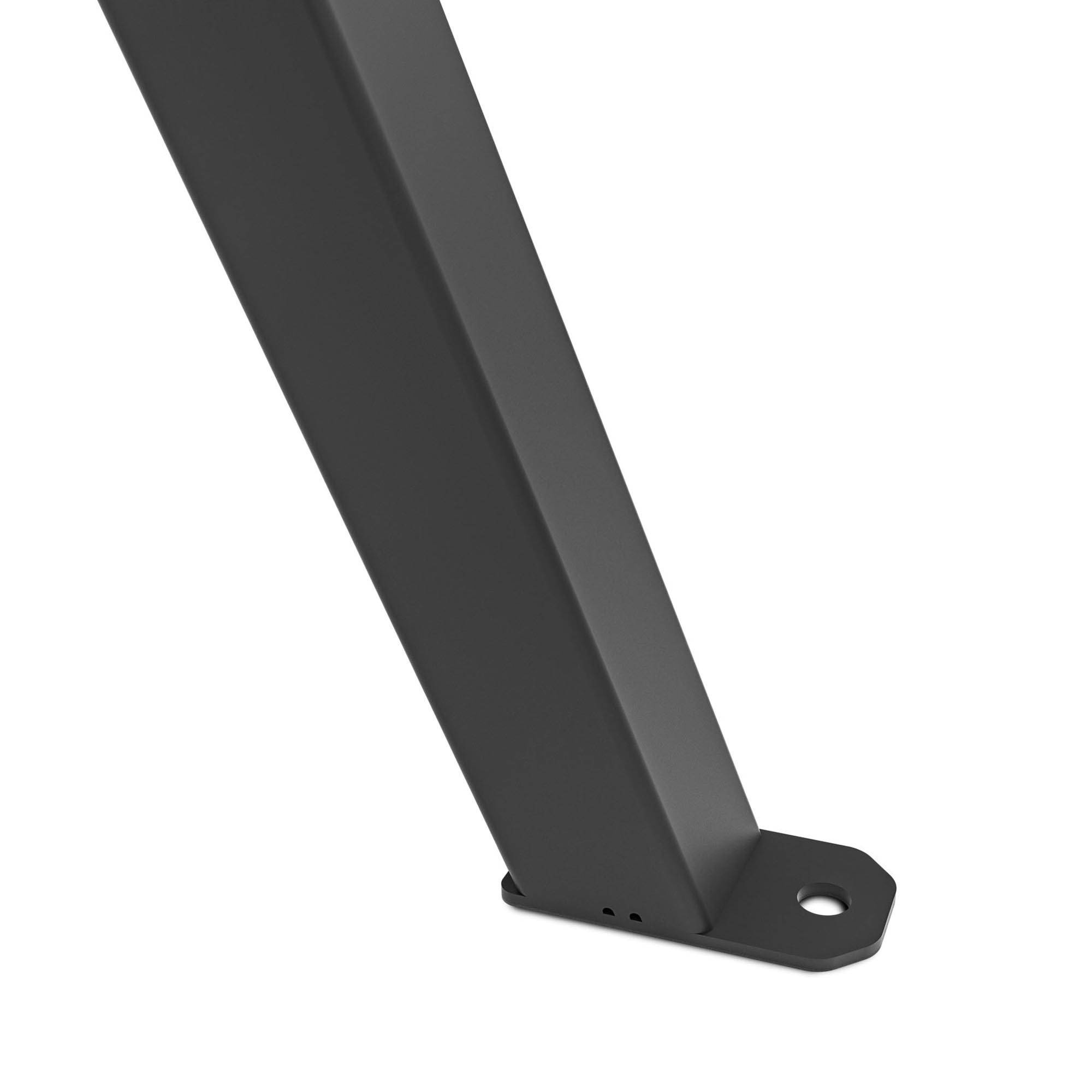 Fixing to the ground
Thanks to holes in the feet of the frame it is possible to anchor the construction in the ground, thus improving its stability and protecting against possible displacement.
Regardless of whether the swing has been set on a soft surface such as grass or hard surface such as paving stones, you can additionally anchor it by using appropriately selected dowels - these because of the need to match the type of terrain on which the construction has been placed is not included in the set.
Possible Hangers:
Traditional swing
Stork's nest
Bench
Hammock
Boxing bag
Gymnastic rings
Gymnastic ropes
Trapeze
Climbing rope
Movable bar
Many others
OUTDOOR line - an outdoor gym for everyone
Marbo OUTDOOR is a series for people who want to create an outdoor gym tailored to their training needs - professional or amateur - as well as an outdoor recreation space for the whole family. This equipment will work perfectly in the garden, on an allotment or other green space.
The modularity of the system makes it possible for everyone to compose their own set of equipment for exercise and recreation. The basic element of this series is a multifunctional ladder - a self-contained structure that inspires adults and children to spend time actively. It can be expanded with additional elements that broaden the possibilities for training and play - according to your own needs.
Elements of the OUTDOOR series combine uncompromising quality and precision workmanship. They were created on the basis of solid structural profiles and tubes to ensure full safety of use for years.
Special reinforcements made of thick sheet metal increase the strength and stability of the structure. The system can be easily fixed by anchoring in the ground. The posts can also be optionally concreted - according to your preferences. Exercising outdoors has never been easier!
Diameter of mounting holes to the ground
Marbo was founded over 40 years ago in Starachowice. We started with the production of simple equipment for home gyms, to constantly increase the range and quality of products together with the experience gained. Today we are the leading manufacturer of bodybuilding equipment in Poland, offering world-class equipment. We have built a brand and gained experience that obliges.
Bodybuilding is our passion, and by combining it with modern machinery, we are able to provide the highest quality equipment, made with attention to detail, and above all with your comfort and safety in mind.
The company is based in Starachowice in the Świętokrzyskie Voivodeship. This is where the office, production and warehouse halls are located. It is a base from which all forms of online sales and contact with customers are controlled, from which shipments for individual customers and partner stores are carried out. On the company's map, all roads start from Starachowice.