Multifunctional wallmounted dip-station with pull-up bar (2in1) MH-U205 - Marbo Sport
It is cheaper in a set!
Set MHU1 | Wall bars for wall mounting 230 x 81 cm MH-U204 + Multifunctional wallmounted dip-station with pull-up bar (2in1) MH-U205 - Marbo Sport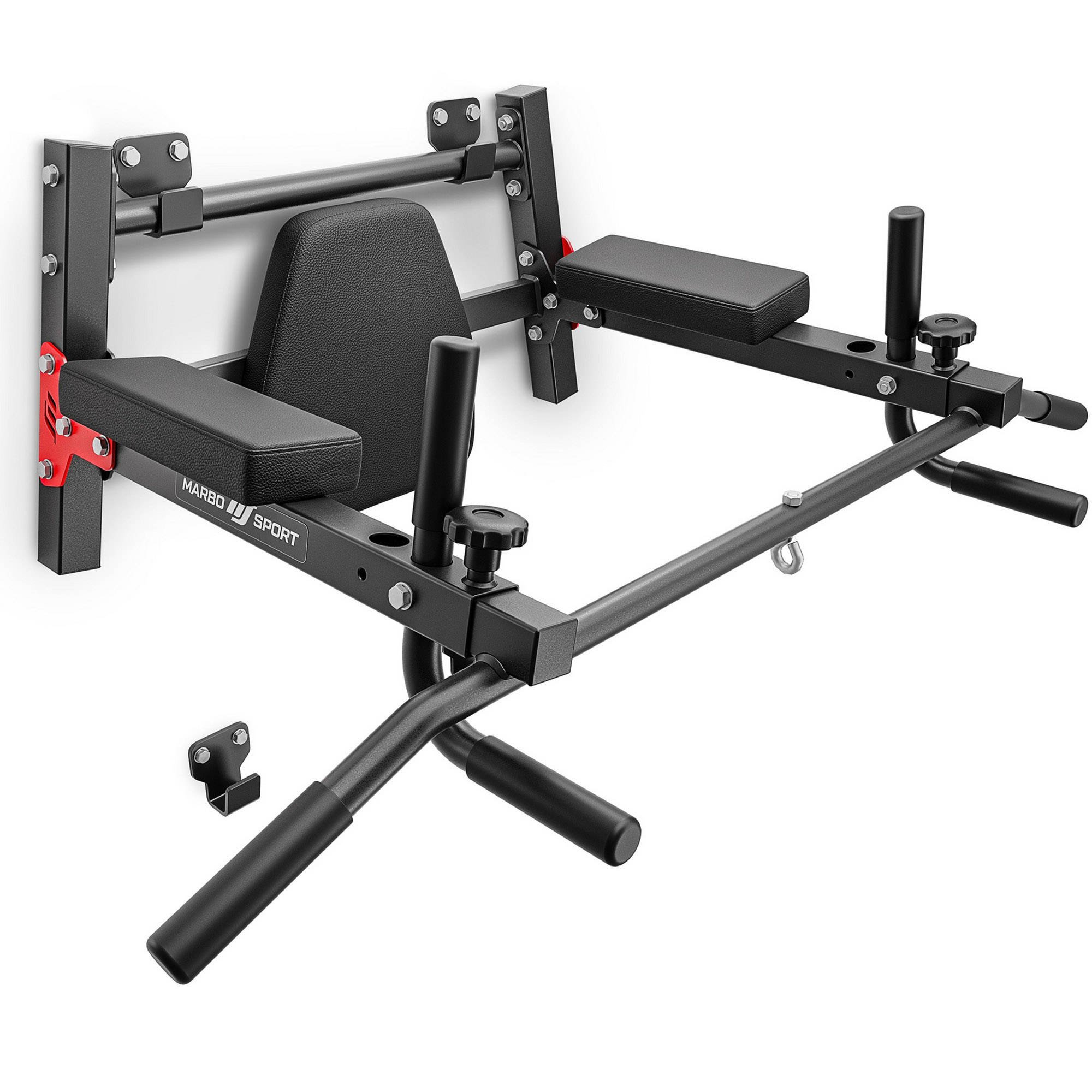 The latest products in the Marbo Home series combine functionality, modern design and a high level of user-friendliness. We present you a brand new product that meets all these criteria to the highest degree: The multifunctional pull-up bar for wall mounting MH-U205.
With our pull-up bar you can train several muscle groups at the same time. The small and handy piece of sports equipment shapes both the abdominal muscles and can be used as a support for push-ups. In order to expand the possibilities when performing exercises, the set also has a punching bag holder. With this set you get a professional training location in your own four walls.
Four mounting holes guarantee you maximum security and stability. The installation is possible on the wall as well as on our wall bars MH-U205. Two comfortable arm pads, the large backrest and four rubberized handles provide the necessary comfort during your training.
All of our products are the result of a constant search for innovative solutions. For this we only use machines and materials of the highest quality within European production, which are characterized by the best quality, a long shelf life of the products and the highest reliability.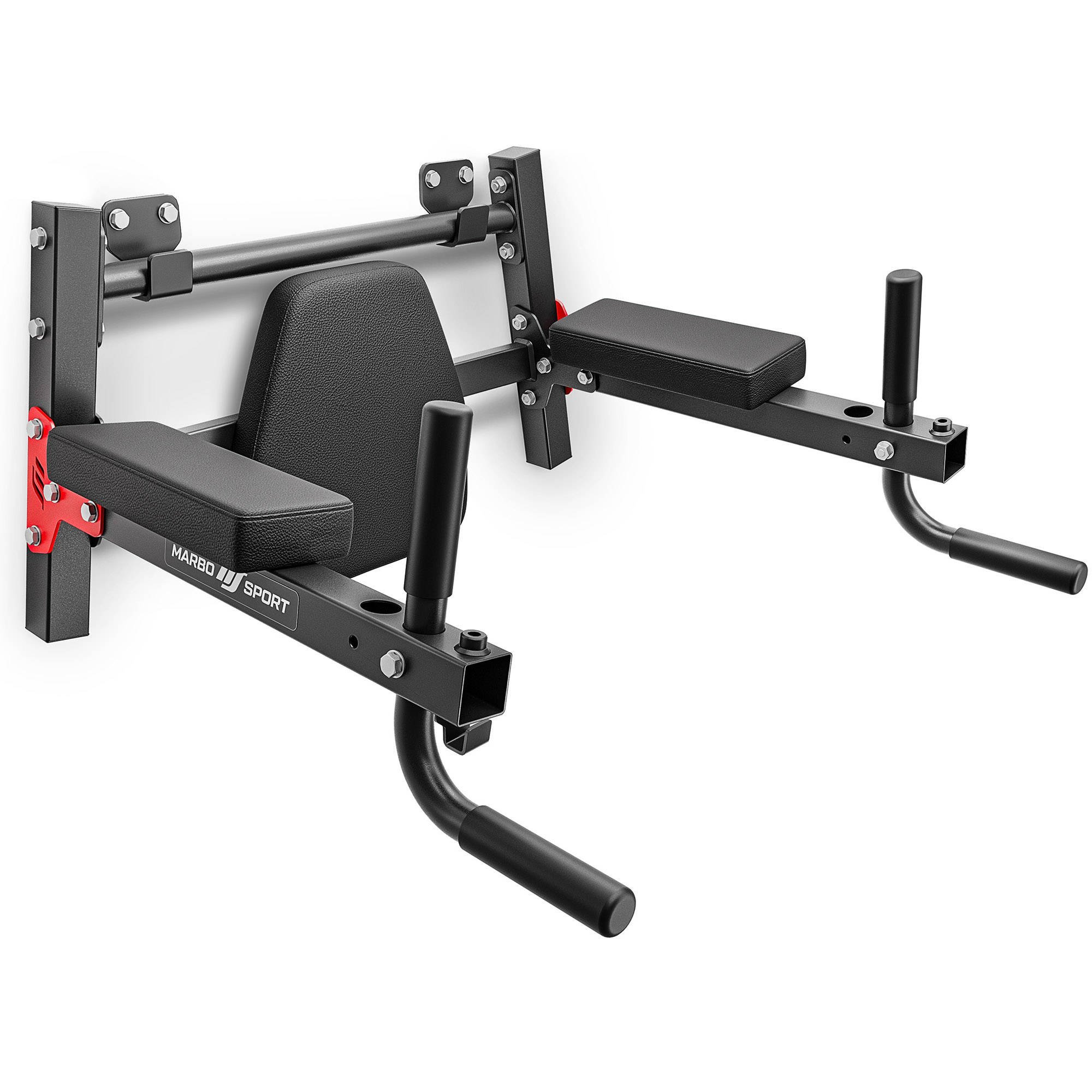 Possible exercises
Leg raises
Pull-ups
Chests to chest (tight grip), pull-up bar
Chest pull-ups (wide grip), pull-up bar
Two mounting options
You are free to decide where you want to mount your new device. Depending on how much space is available, you can mount the pull-up bar on the wall or, in combination with our wall bars MH-U204, create a multifunctional training location. The big advantage of this solution is that the training station is expanded, but no additional space is required.
The set includes three sets of hooks with handrails. Two of them allow the device to be attached to the wall at two heights. The third set of hooks is used to attach the device to the MH-U204 wall bar.
Verstellbarer Griff
Die Griffe im Bereich der Armlehnen kann mit einer unkomplizierten Handbewegung an Ihre individuellen Bedürfnisse angepasst werden. Eingestellt werden können die Griffe in zwei unterschiedlichen Abständen zur Wand, nämlich mit 43 Zentimetern und 47 Zentimetern. Anschließend können Sie die Griffe in der ausgewählten Position sicher verriegeln.Ausgestattet sind die Griffe mit einem hochwertigen rutschfesten Gummi, welches einen hohen Komfort beim Training bietet.
Ergonomically shaped arm pads
Your comfort during training is very important to us. That's why we used a new, thicker foam with a degree of hardness of R90 to produce the arm pads. This foam guarantees a comfortable and safe support for your elbows during the exercises.
Removable bar with punching bag holder
Our pull-up bar offers you the practical option of expanding it for further exercise variants. By twisting off the toggle handles on the side, you can quickly remove and convert the bar and the punching bag holder.
Assembly key
The scope of delivery includes the appropriate assembly key with which the pull-up bar can be easily and conveniently assembled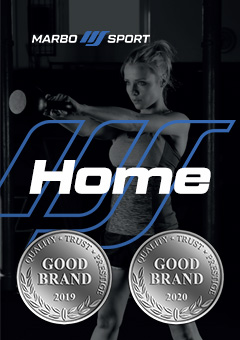 Home line - sports equipment for private use
The Home series is a series of products designed for beginners in bodybuilding and sports enthusiasts who want to gain the experience.
The device was made to be functional and easy to assemble. It also guarantees safety and comfort. The products are made of firm fabric 40x40cm. It ensures the stability that is incomparable with other sports equipment in this price range. The aesthetics of the production emphasize the elegant red and black upholstery with the 3 cm sponge and the powder coating.
Safety is the most important thing for us
In order to guarantee the safety of the customers, our device is checked for safety and conformity by the European Center for Quality. Our accessories series has achieved the target specifications for examinations. We got the security certificate and top security certificate.
Dimensions of the backrest
Marbo was founded over 40 years ago in Starachowice. We started with the production of simple equipment for home gyms, to constantly increase the range and quality of products together with the experience gained. Today we are the leading manufacturer of bodybuilding equipment in Poland, offering world-class equipment. We have built a brand and gained experience that obliges.
Bodybuilding is our passion, and by combining it with modern machinery, we are able to provide the highest quality equipment, made with attention to detail, and above all with your comfort and safety in mind.
The company is based in Starachowice in the Świętokrzyskie Voivodeship. This is where the office, production and warehouse halls are located. It is a base from which all forms of online sales and contact with customers are controlled, from which shipments for individual customers and partner stores are carried out. On the company's map, all roads start from Starachowice.