Marbo Sport multifunctional pull-up bar with wall mounting, lat pulldown and punching bag holder (3in1) MH-D204 - Marbo Sport
When it comes to developing new products, our customers are our greatest motivation. It is our goal to offer you universal training equipment with which you have a variety of different training options. With this in mind, our Marbo Sport chin-up bar with wall attachment, lat pulldown and punching bag holder (3 in 1) - MH-D204 2.0 was developed.
Multifunctional - With the help of our pull-up bar you can strengthen your arms and shape your abdominal muscles. But that is not all. With the punching bag holder it is possible for you to complete a comprehensive boxing training. Opt for our multifunctional pull-up bar and get a compact and professional training device that you can use extensively without leaving your four walls.
In order to always guarantee the highest level of safety during training, you can attach our pull-up bar to the wall with up to eight attachment points. In addition, non-slip rubber grips have been used so that you are in complete control of your training at all times and there is no risk of slipping off the handle.
* The punching bag and the weight shown in the photos are not part of the set.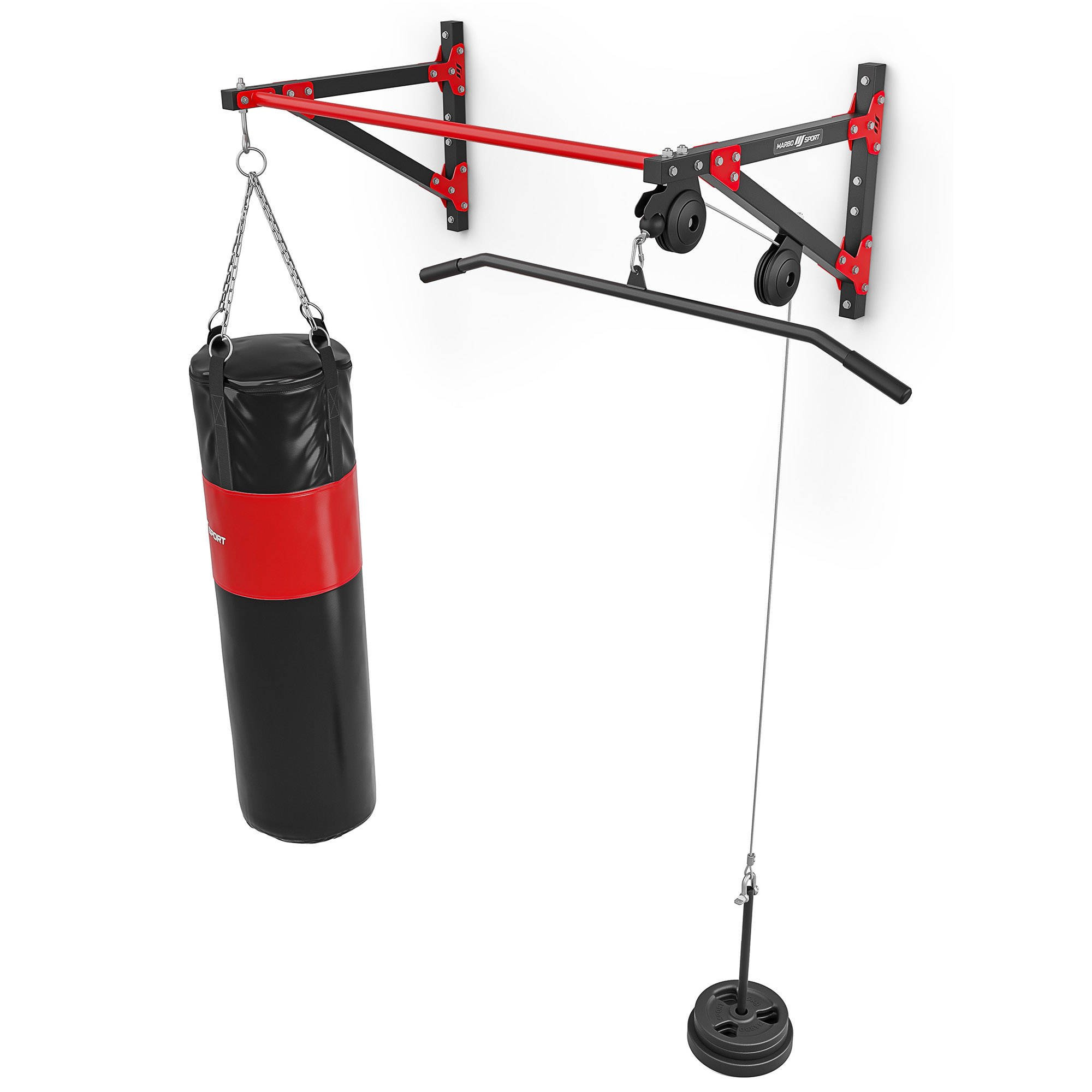 Universal solution
All of our products are the result of our constant search for new and innovative solutions that focus on reliability, durability and quality. Our product has an upper lat pulldown including a lat pulldown bar, which is 120 centimeters long, as well as a punching bag holder. This structure enables you to complete the workout in your home gym without any delays. Our devices don't take up much space - the compact dimensions of our universal training device are absolutely unique on the market.
Upper lat pulldown
In our lat pulldown, ball-bearing wheels were used, which enables smooth training. With its length of 120 centimeters, the lat pull bar is perfect for exercises that strengthen the triceps and back. With this innovative solution you can optimally shape your figure without leaving your home.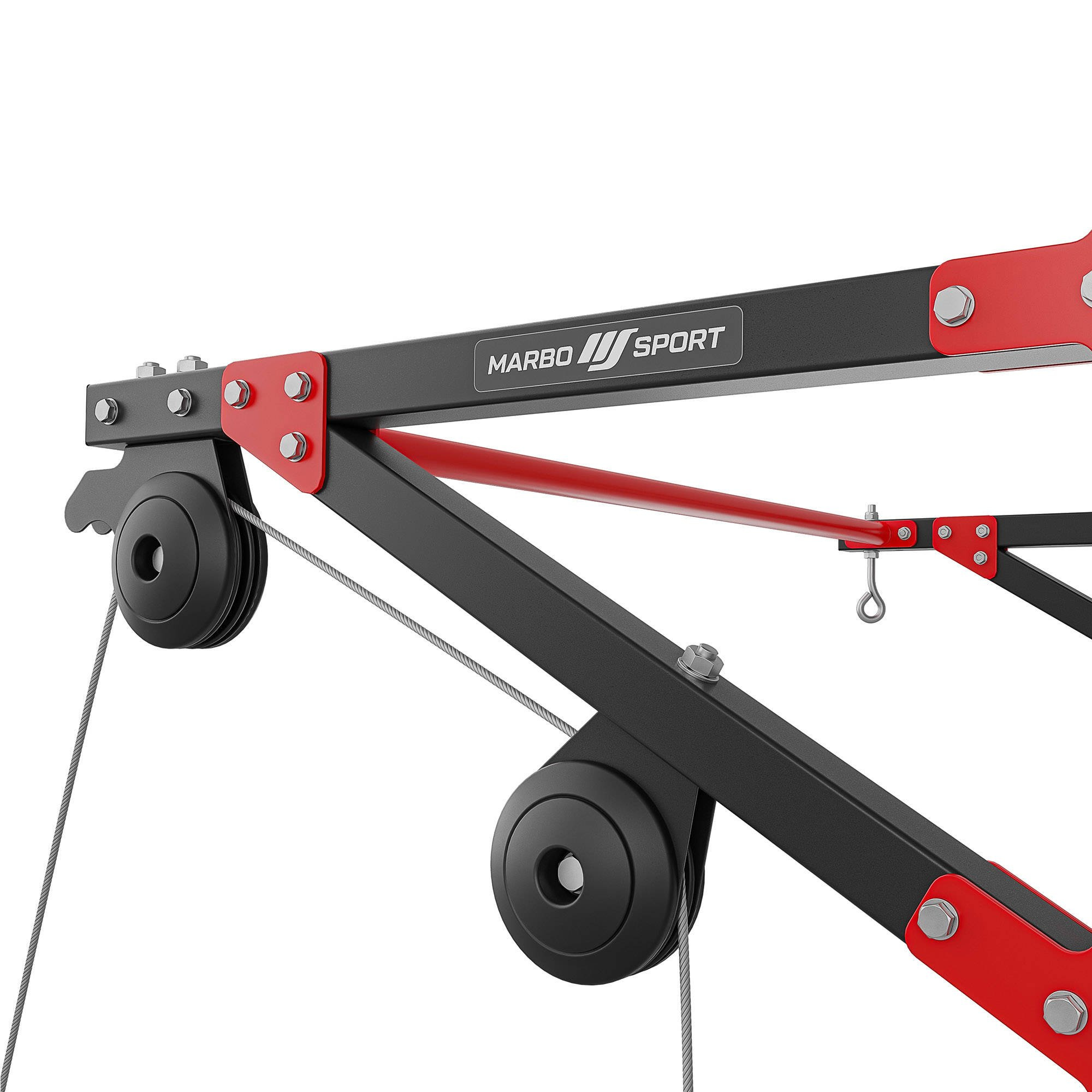 Strong and durable construction
Longevity is the hallmark of each of our training equipment. Only solid, durable and high-quality devices guarantee complete stability and safety during training. The structure of our multifunction bar consists of profiles with the dimensions 40 mm x 40 mm. The lat pull bar has a diameter of 30mm.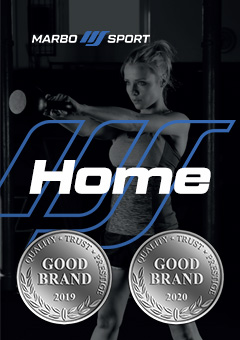 Home line - sports equipment for private use
The Home series is a series of products designed for beginners in bodybuilding and sports enthusiasts who want to gain the experience.
The device was made to be functional and easy to assemble. It also guarantees safety and comfort. The products are made of firm fabric 40x40cm. It ensures the stability that is incomparable with other sports equipment in this price range. The aesthetics of the production emphasize the elegant red and black upholstery with the 3 cm sponge and the powder coating.
Safety is the most important thing for us
In order to guarantee the safety of the customers, our device is checked for safety and conformity by the European Center for Quality. Our accessories series has achieved the target specifications for examinations. We got the security certificate and top security certificate.
vertical spacing: 190 mm / 60 mm,
horizontal spacing: 1170 mm
Marbo was founded over 40 years ago in Starachowice. We started with the production of simple equipment for home gyms, to constantly increase the range and quality of products together with the experience gained. Today we are the leading manufacturer of bodybuilding equipment in Poland, offering world-class equipment. We have built a brand and gained experience that obliges.
Bodybuilding is our passion, and by combining it with modern machinery, we are able to provide the highest quality equipment, made with attention to detail, and above all with your comfort and safety in mind.
The company is based in Starachowice in the Świętokrzyskie Voivodeship. This is where the office, production and warehouse halls are located. It is a base from which all forms of online sales and contact with customers are controlled, from which shipments for individual customers and partner stores are carried out. On the company's map, all roads start from Starachowice.